China wants developers to stop making 'bizarre' and 'odd-shaped' buildings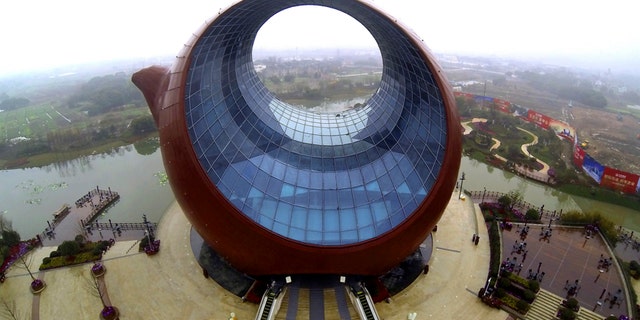 NEWYou can now listen to Fox News articles!
They are certainly eye catching.
But these buildings have caught the attention of Chinese officials — and not because they're considered beautiful.
Buildings such as the National Theatre in Beijing and the iconic Guangzhou Circle are under the spotlight with authorities keen to get back to basics when it comes to the country's architecture.
Chinese President Xi Jinping declared war on the trend of wacky buildings popping up across the country in the wake of a decade-long construction boom.
In a speech made in October 2014, Xi called for morally-inspiring architecture and for an end to weird buildings, The Guardian reported.
That call was echoed just days ago after China's State Council released new urban planning guidelines with "bizarre" and "odd-shaped" buildings that are devoid of character or cultural heritage now on the banned list.
Instead, a statement from the council calls for buildings that are "economic, green and beautiful."
In the statement the council said the new guidelines were issued in a "bid to tackle the problems associated with increasing urbanisation and the explosion of city sizes."
It goes on to say cities will no longer be able to grow beyond what their natural resources can support and odd-shaped buildings are on the no go list.
"Bizarre architecture that is not economical, functional, aesthetically pleasing or environmentally friendly will be forbidden, while construction techniques that generate less waste and use fewer resources, such as the use of prefabricated buildings, will be encouraged," the document reads.
The document was released just two months after the Central Urban Work Conference, the first such meeting to address the issue since 1978, when only 18 per cent of China's population lived in cities.
That figure has now jumped to around 50 per cent.
Click for more from News.com.au.