China stages military exercise in unruly Xinjiang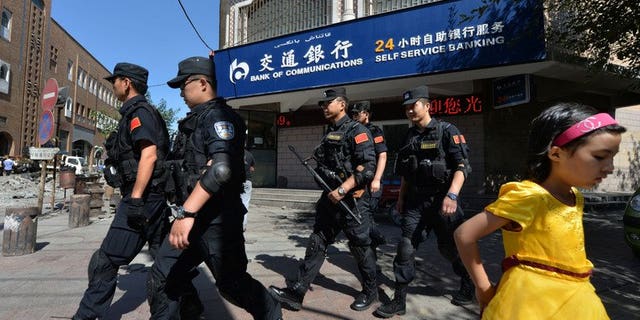 URUMQI, China (AFP) – China staged a large military exercise in the ethnically-divided Xinjiang region on Saturday, an AFP reporter said, where clashes this week killed at least 35 people.
Tanks, army vehicles, and armed personnel blocked access to streets in Xinjiang's capital Urumqi, where army units carried out an exercise, an AFP reporter present at the scene said. Large sections of the city's centre were shut down for the exercise, she said.
The exercise was carried out by members of the People's Armed Police, part of China's armed forces responsible for law enforcement and internal security during peacetime.
The exercises come ahead of the fourth anniversary on July 5 of riots, between members of China's mostly Muslim Uighur ethnic minority and the Han majority group, which left around 200 dead.
Xinjiang, which is periodically hit by unrest has been the site of two riots this week. China labelled as a "terrorist attack" one riot which left 35 dead on Wednesday, while state-media reported more than 100 "terrorists" rioted on Friday.
Members of Uighur rights groups have disputed the claims of terrorism, arguing that China has not presented evidence for its assertions and imposed a media blackout around the locations of the riots.
Xinjiang, a western region about twice the size of Turkey, is home to around 10 million members of the Uighur ethnic minority.