China searches for survivors as flooding spreads death, despair in Asia; Pakistan relief slow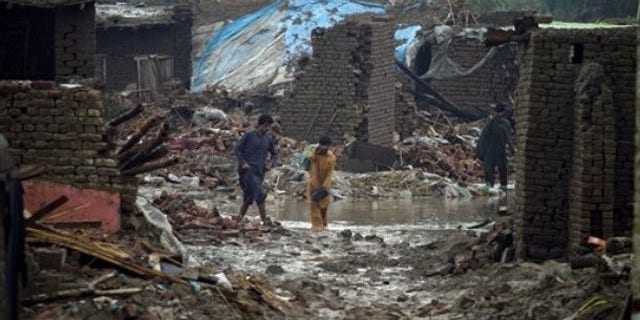 ZHOUQU, China – ZHOUQU, China (AP) — Rescuers dug through mud and wreckage Monday searching for 1,300 people missing after flash floods and landslides struck northwestern China, just one of a series of floods across Asia that have killed hundreds and spread misery to millions more.
In Pakistan, frustrated victims railed against the government's anemic relief effort for the estimated 15 million displaced by the country's worst-ever floods, while rescuers in Indian-controlled Kashmir raced to find 500 people still missing in flash floods that have killed 132.
Sunday's disaster in China's Gansu province killed at least 127 people and covered entire villages in water, mud, and rocks.
Vehicles carrying aid supplies choked the road over bare, eroded mountains into the remote county seat of Zhouqu. Bodies wrapped in blankets were collected and laid on truck beds, although the government had not updated the death toll since Sunday night.
Work was under way to restore power, water and communications in affected areas in the southern part of the province, and it was not known how many of the missing were in danger or simply out of contact.
Hoping to prevent further disasters, demolitions experts set off three sets of charges to clear debris blocking the Bailong River upstream from the ravaged Zhouqu, which remained largely submerged following Sunday's disaster.
The blockage had formed a 2-mile (3-kilometer)-long artificial lake on the river that overflowed in the pre-dawn hours, sending deadly torrents crashing down onto the town. Houses were ripped from their foundations, apartment buildings shattered, and streets covered with a layer of mud and water more than a yard (meter) deep.
Authorities were rushing in water, tents, blankets and other emergency supplies and Premier Wen Jiabao flew to the area on Sunday to oversee relief efforts.
Wen visited hard hit areas including the Sanyan valley, where a village of 300 households was completely buried in mudslides, the official Xinhua News Agency said. It said more than 680 villagers have been rescued, but gave no word on numbers believed to still be trapped.
State broadcaster CCTV showed Wen comforting victims and promising government reconstruction support. At one point he is shown calling out to people waiting to be pulled from their buried home, saying: "Don't move! We're getting you out."
China's worst flooding in a decade has killed more than 1,100 people this year, with more than 600 still missing. The floods have caused tens of billions of dollars in damage across 28 provinces and regions.
In Pakistan, anger showed no sign of dissipating as heavy rains continue to raise water levels in the country's swollen rivers, displacing thousands of additional people every day. The complaints added to rising national anger directed at an already unpopular government that has deployed thousands of soldiers to save victims and deliver meals but has been overwhelmed by the scale of the disaster that has killed at least 1,500.
Although Manzoor Ahmed managed to escape rising floodwaters that submerged villages and destroyed homes in southern Pakistan, he said Monday that the total lack of government help meant dying may have been a better alternative.
The 25-year-old was one of thousands of people who fled their homes in Sindh province and railed against the government's anemic relief effort even though officials had time to prepare. Floodwaters first inundated Sindh several days ago, more than a week after devastating the northwest.
"It would have been better if we had died in the floods as our current miserable life is much more painful," said Ahmed, who fled with his family from the town of Shikarpur and spent the night shivering in the rain that has continued to lash the country.
Thousands of Pakistanis in the neighboring districts of Shikarpur and Sukkur camped out on roads, bridges and railway tracks — any dry ground they could find — often with nothing more than the clothes on their backs and perhaps a plastic sheet to keep off the rain.
"I have no utensils. I have no food for my children. I have no money," said 40-year-old Hora Mai, sitting on a rain-soaked road in Sukkur along with hundreds of other people. "We were able to escape the floodwaters, but hunger may kill us."
A senior government official in Sukkur, Inamullah Dhareejo, said authorities were working to set up relief camps in the district and deliver food to flood victims.
But an Associated Press reporter who traveled widely through the worst-hit areas in Sindh over the past three days saw no sign of relief camps or government assistance.
In India, rescuers were searching for 500 people still missing after flash floods and mudslides in remote desert mountainsides in Indian-administered Kashmir, officials said. The death toll rose to 132 with about 500 others injured.
The dead included at least five foreign tourists whose nationalities were not immediately known.
Thousands of army, police and paramilitary soldiers were also clearing roads to reach isolated villages in the Ladakh region cut off by Friday's powerful thunderstorms. About 2,000 foreign tourists were in the area, a popular destination for adventure sports enthusiasts, when the storm hit, burying homes and toppling power and telecommunication towers.
___
Associated Press writers Ashraf Khan in Sukkur, Pakistan, and Aijaz Hussain in Indian Kashmir contributed to this report.