China says US is destabilizing region by increasing presence in Asia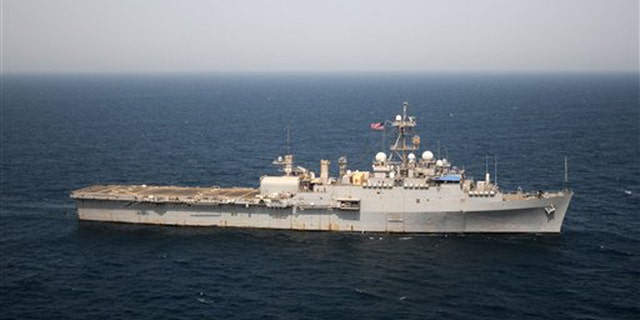 BEIJING – In its latest account of national defense efforts, China said Tuesday that the United States is destabilizing the Asia-Pacific region by strengthening its military alliances and sending more ships, planes, and troops to the area.
The U.S. policy known as the "pivot" to Asia runs counter to regional trends and "frequently makes the situation tenser," the Defense Ministry said in its report on the state of China's defense posture and armed forces.
"Certain efforts made to highlight the military agenda, enhance military deployment and also strengthen alliances are not in line with the calling of the times and are not conducive to the upholding of peace and stability in the region," spokesman Yang Yujun told reporters at a news conference marking the report's release.
"We hope that the relevant parties would do more to enhance the mutual trust between countries in the region and contribute to peace and stability," Yang said.
China has consistently criticized Washington's deployment of additional ships and personnel to Asia, along with increasing cooperation both with treaty partners, including Japan, South Korea, and the Philippines, as well other countries such as Vietnam that aren't traditional allies.
The U.S. is winding down its fighting in Afghanistan and calls the restructuring a natural reallocation of resources to the world's most economically dynamic region.
Beijing, however, sees it as specifically designed to contain China's diplomatic, military, and economic rise, and has sought to reassure Asian nations that China poses no threat to them. Despite that, China's fast-growing military and increasingly firm assertions of its territorial claims have concerned many countries, pushing them to seek stronger relations with the U.S., the region's traditional military superpower.
The pivot will see 60 percent of the Navy's fleet be deployed to the Pacific by 2020. Singapore will be home to four new U.S. Littoral Combat Ships designed to fight close to shorelines, while Indonesia is looking to buy a broad range of American hardware and take part in joint maneuvers. The Philippines is seeking to host more U.S. troops on a rotating basis and Australia has agreed to allow up to 2,500 Marines to deploy to the northern city of Darwin.
Meanwhile, in the face of natural disasters and North Korean threats, U.S. military relations with treaty partners South Korea and Japan are closer than ever.
In its report, the Defense Ministry again sought to assuage concerns about its more than 500 percent increase in defense spending over the past 14 years. China's defense budget is now the second largest in the world after the U.S., allowing it to acquire everything from better submarines and missiles to state-of-the-art fighters, aircraft carriers and electronic warfare systems, and helping spawn an arms race across Asia.
Much of the report was devoted to the military's contribution to U.N. peacekeeping efforts and disaster relief, portraying the People's Liberation Army as a force for regional and global stability.
Yet it also asserted the PLA's role as a guarantor of China's core interests, vowing to tolerate no violation of those.
"'We will not attack unless we are attacked, but we will surely counterattack if attacked. Following this principle, China will resolutely take all necessary measures to safeguard its national sovereignty and territorial integrity," the report said.