China says repeated US Navy patrols in South China Sea justify defense boosts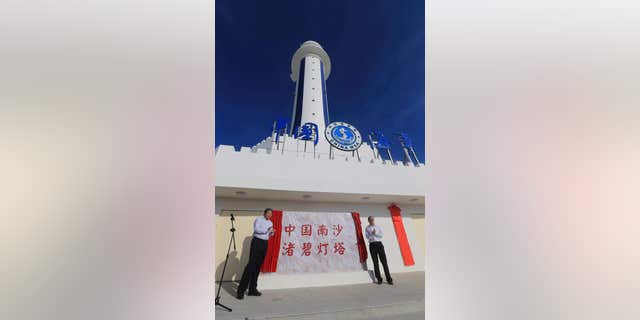 China defended its militarization of its artificial reefs in the disputed South China Sea on Wednesday, saying repeated U.S. Navy patrols in the area are forcing it to boost its islands' defense capabilities.
The China Defense Ministry said in a statement it deployed two navy fighter jets, one early warning aircraft and three ships to track the missile-guided destroyer USS William P. Lawrence as it passed near Fiery Cross Reef Tuesday.
"The provocative actions by American military ships and planes lay bare the U.S. designs to seek gain by creating chaos in the region and again testify to the total correctness and utter necessity of China's construction of defensive facilities on relevant islands," the ministry said.
"China will increase the scope of sea and air patrols based on need, boost all categories of military capacity building, resolutely defend national sovereignty and security, and resolutely safeguard peace and stability in the South China Sea," the statement said.
A senior U.S. defense official told The Wall Street Journal Tuesday that the USS William P. Lawrence navigated within 12 nautical miles of the reef, part of the Spratly chain of islands. The Defense Department said in a statement to Reuters the operation was to "challenge excessive maritime claims of some claimants in the South China Sea."
Washington has repeatedly said they will fly wherever permitted by international law and maintains there can be no limits on freedom of navigation as according to established practice.
China has added more than 3,000 acres of land to its South China Sea island holdings by expanding existing islands or creating new ones by piling sand atop coral reefs.
Chinese officials have insisted that they have no plans to militarize the Spratly Islands. China President Xi Jianping made a pledge to that effect when he visited the White House in September.
However, China landed civilian jets on Fiery Cross reef in January to test a new 10,000 foot runway, a move seen as more evidence that Beijing is increasing its military presence in the region.
In February, Adm. Harry Harris, commander of U.S. Pacific Command, told Congress that China was clearly militarizing its South China Sea claims, saying, "You would have to believe in a flat earth to think otherwise."
Though China's claims have drawn the most attention, the Journal reported that Tuesday's operation, known as an "innocent passage" was technically meant to counter competing claims by Vietnam, Taiwan and the Philippines.
In addition to the warship operations, the U.S. Air Force sent A-10 warthog attack planes close to Scarborough Shoal, a move which led Beijing to accuse the U.S. of inflaming tensions in the region.
The addition of airstrips and military infrastructure has Washington and others worried that China is attempting to assert total dominance over the region's waters and airspace that are claimed in whole or in part by five other governments.
China rejects accusations that it is responsible for raising tensions, saying actions by the U.S. Navy and the encouragement Washington offers to other claimants such as Vietnam and the Philippines are increasing the chances of conflict.
An estimated $5 trillion in global trade passes annually through the South China Sea, which is home to rich fishing grounds and a potential wealth of undersea oil and gas deposits.
Fox News' Lucas Tomlinson and The Associated Press contributed to this report.