China says it will cut 300,000 troops from army at parade commemorating end of WWII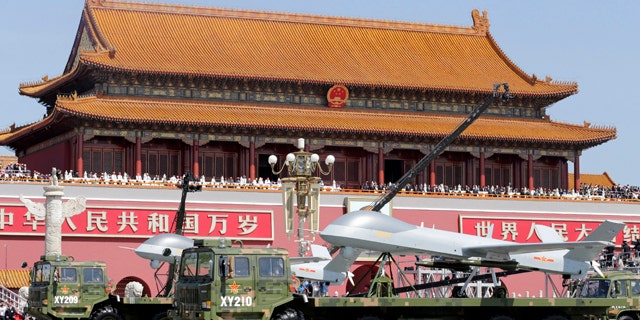 Chinese President Xi Jinping pledged Thursday to reduce China's army by 300,000 people due to rising personnel costs and growing technological capabilities that reduce the need for large numbers of troops.
Xi made the announcement at the start of a massive military parade commemorating the 70th anniversary of Japan's surrender, which brought about the end of World War II. The planned cuts would reduce the manpower of the People's Liberation Army (PLA) to approximately 2 million.
"The experience of war makes people value peace even more," Xi said. "Regardless of the progress of events, China will never seek hegemony, China will never seek to expand and will never inflict the tragedies it suffered in the past upon others."
Once known for its human wave tactics in conflicts such as the Korean War, the PLA is increasingly focused on high-tech weaponry and more focused missions.
As an example, the latest version of the PLA's mainstay bomber, the H-6K, requires just a three-person crew, half its former complement.
The parade involved more than 12,000 troops, 500 pieces of military hardware and 200 aircraft of various types, representing what military officials say is the Chinese military's most cutting-edge technology.
The spectacle is part of commemorations packaged to bolster the ruling Communist Party's self-declared role as the driving force behind Japan's defeat 70 years ago and savior of the nation, though historians say the rival Nationalists did most of the fighting. The events also minimize the role of the U.S., Britain and others.
Most leading democracies kept high-level representatives away, reflecting concerns over the parade's anti-Japanese tone and China's recent aggressive moves to assert territorial claims. The U.S. sent only its ambassador to observe. In Washington, U.S. Defense Department spokesman Bill Urban said that the U.S. maintains such commemorations should be about reconciliation and that a "large military display would not appear to be consistent with this theme."
Under Xi, who took power as party leader in late 2012, Beijing has sent ships to confront Japan's coast guard near disputed islands in the East China Sea, blockaded Philippine island outposts and constructed whole islands from reefs, topping them with airstrips and other military infrastructure.
China usually holds lavish military parades only every 10 years to mark the anniversary of the founding of the communist People's Republic in 1949. By holding an additional one now, Xi ensures that he'll preside over at least two of the prestigious events during his decade-long tenure in power ending in 2023.
The parade panders to a prickly strain of nationalism in a Chinese public constantly reminded by state propaganda of China's past humiliations at the hands of foreign powers, especially Japan, which is widely despised for its perceived failure to properly atone for invading China.
While a hit at home, such sentiments heighten fears abroad about China's intended uses of its newfound power, frustrating Beijing's attempts to market itself as a responsible member of international society committed to the common good.
"In domestic terms, it's certainly a plus for Xi. But in foreign policy terms, it's controversial. It doesn't enhance China's soft power. It doesn't help China's image as a force for peace, stability and development," said Joseph Cheng, a retired academic and political analyst in Hong Kong.
The Associated Press contributed to this report.