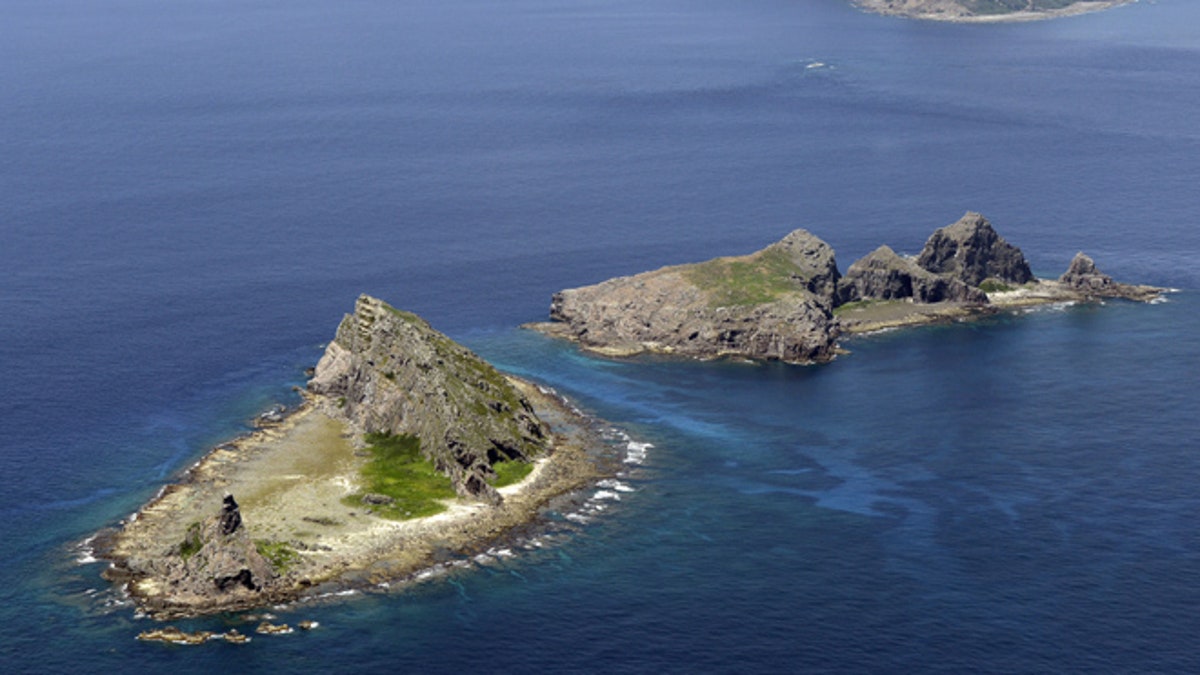 BEIJING – China said Wednesday it had monitored two unarmed U.S. bombers that flew over the East China Sea in defiance of Beijing's declaration it was exercising greater military control over the area.
Tuesday's flight of the B-52 bombers underscored U.S. assertions that it will not comply with Chinese demands that aircraft flying through its newly declared maritime air defense zone identify themselves and accept Chinese instructions.
A Chinese Defense Ministry statement released Wednesday said the planes were detected and monitored as they flew through the zone for two hours and 22 minutes. It said all aircraft flying through the zone would be monitored, but made no mention of a threat to take "defensive emergency measures" against noncompliant aircraft that was included in an announcement on Saturday.
"China has the capability to exercise effective control over the relevant airspace," said the brief statement, attributed to an unidentified ministry spokesman.
The U.S. described the flights as a training mission and said they were not flown in response to China's latest move to assert a sovereignty claim over a group of uninhabited islands controlled by Japan. The two B-52 bombers took off from their home base in Guam around midday and were in the zone that encompasses the disputed islands for less than an hour before returning to their base, U.S. officials said, adding the aircraft encountered no problems.
The bomber flights came after State Department spokeswoman Jen Psaki said China's move appeared to be an attempt to change the status quo in the East China Sea.
"This will raise regional tensions and increase the risk of miscalculation, confrontation and accidents," she told reporters.
The U.S., which has hundreds of military aircraft based in the region, has said it has zero intention of complying with the new Chinese demands. Japan likewise has called the zone invalid, unenforceable and dangerous, while Taiwan and South Korea, both close to the U.S., also rejected it.
Australia also said it called in the Chinese ambassador to express concern about the sudden zone declaration.
"The timing and the manner of China's announcement are unhelpful in light of current regional tensions, and will not contribute to regional stability," Foreign Minister Julie Bishop said in a statement.
Beijing's move fits a pattern of putting teeth behind its territorial claims and is seen as potentially leading to dangerous encounters depending on how vigorously China enforces it -- and how cautious it is when intercepting aircraft from Japan, the U.S. and other countries.
Chinese reaction to the bomber flights was predictably angry, with some recalling the 2001 collision between a Chinese fighter and a U.S. surveillance plane in international airspace off China's southeastern coast -- the kind of accident some fear China's new policy could make more likely. The Chinese pilot, Wang Wei, was killed in the crash and the U.S. crew forced to make a landing on China's Hainan island, where they were held for 10 days and repeatedly interrogated before being released.
"Let's not repeat the humiliation of Wang Wei. Make good preparations to counter-attack," wrote Zheng Daojin, a reporter with the official Xinhua News Agency on his Twitter-like Weibo microblog.
Businessman Li Pengliang said the islands dispute had heightened anti-Japanese sentiment, but doubted the chances of an open conflict.
"The public is outraged, but I still believe that the leaders in power are sober minded. They will not act on impulse," Li said.
It wasn't clear whether Beijing had anticipated the forceful response from Washington and others, or how well it was prepared to back up its demands. Chinese scholars, who often serve as ad-hoc government spokesmen, criticized Tuesday's flights as a crude show of force and said Beijing wasn't looking for a fight.
"It's not that China didn't want to enforce its demands, but what how do you expect China to react?" said Zhu Feng, an international security expert at Peking University.