China Rewards Costa Rica's Loyalty With $900 Million Credit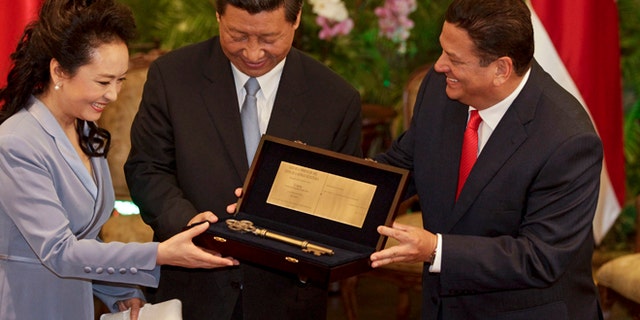 SAN JOSE, Costa Rica – As a reward for its support, China will give Costa Rica, the only Central American country with diplomatic relations with the world's second largest economy, a $900 million line of credit to finance the expansion and remodeling of an oil refinery.
The two countries announced the deal Monday.
During an official visit by Chinese President Xi Jinping, the two countries signed nine cooperation agreements totaling $1.5 billion that will provide resources for improving Costa Rican roads and public transit fleets, purchasing solar panels and the building of a new police school.
Xi arrived Monday from Trinidad & Tobago, where he offered concessionary loans to nine Caribbean countries totaling about $3 billion. He travels Tuesday to Mexico, where he has said he plans to discuss ways to increase Mexican exports to China. Xi closes his trip with a visit to the United States later this week.
Costa Rica is the only Central American country that has diplomatic relations with China, the world's second-largest economy, and has been rewarded with projects and visits by two sitting Chinese presidents since it first recognized the Asian giant over Taiwan in 2007.
The refinery, in Puerto Limon, is small and old and refines about 18,000 barrels of imported crude a day. The remodel could boost production to 65,000 barrels a day, with the Chinese sharing in the profits. Costa Rica sought help from China in updating the facility.
But the project is under debate as Costa Rican economists and politicians question the Chinese feasibility studies, and say the money would be better spent seeking alternative forms of energy.
Rene Castro, minister of environment and energy, said that the agreement only means having a line of credit available and that Costa Rica's government still has asked state universities for analysis to determine whether the project is feasible.
The Chinese also ratified Costa Rica's sanitary protocol to allow the export of pork to China, while the largest dairy business in the country, Dos Pinos, announced new exports of fresh and flavored milk.
Costa Rican President Laura Chinchilla said her country will make the visa process more flexible to increase the number of Chinese tourists and business vistors.
Foreign Minister Enrique Castillo said Costa Rica will speed up the process for Chinese who already have visas from other countries, such as the U.S. and European Union, and will add people in the Beijing and Shanghai consulates to process paperwork quicker.
China has more than 100 million tourists traveling worldwide, Castillo said, noting that if Costa Rica could get 500,000 of them, it would boost tourism visits by 25 percent. Currently Chinese tourism to Costa Rica is very small because of visa problems.
Based on reporting by the Associated Press.
Follow us on twitter.com/foxnewslatino
Like us at facebook.com/foxnewslatino