China lands first jet on its aircraft carrier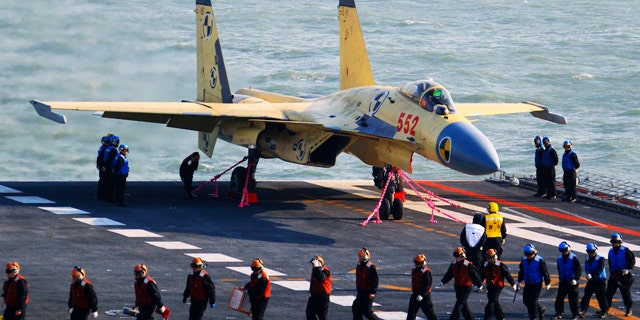 BEIJING – China has successfully landed a fighter jet on its first aircraft carrier, which entered service two months ago, the country's official news agency confirmed Sunday.
The Liaoning aircraft carrier underscores China's ambitions to be a leading Asian naval power, but it is not expected to carry a full complement of planes or be ready for combat for some time.
Xinhua News Agency said the landing exercise marked the debut of the J-15 fighter jet, a carrier-based fighter-bomber developed by China from Russia's Sukhoi Su-33.
The Defense Ministry's website carried photos of the jet taking off from and landing on the carrier.
Citing unnamed naval sources, Xinhua said that the carrier platform and J-15 capabilities met all requirements and achieved "good compatibility."
Xinhua says the J-15 is able to carry anti-ship, air-to-air and air-to-ground missiles and precision-guided bombs.
Since China's Liaoning ship formally entered into service on Sept. 25, its crew members have completed more than 100 training and test programs, Xinhua said.
China bought the former Soviet navy's unfinished carrier from Ukraine in 1998 and spent years refurbishing it.