China claims 23 terrorist, extremist groups broken up this month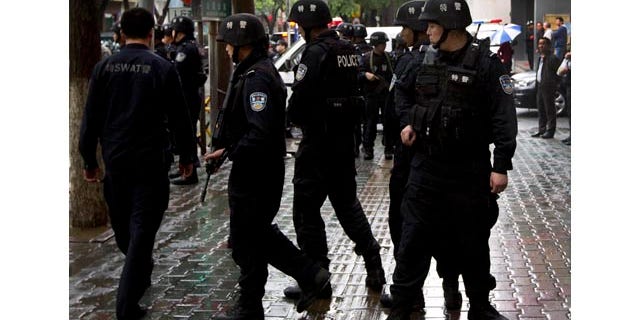 BEIJING – So far this month, police in China's restive western region of Xinjiang have broken up 23 terror and religious extremism groups and caught over 200 suspects, state media reported Monday.
It was the first announcement of a large number of arrests since an attack last week in the region's capital killed at least 43 that police have blamed on a "terrorist gang." Authorities subsequently launched a high-profile one-year security crackdown targeting terrorists and extremists, although the figures for the latest detentions are for the whole month of May.
The official Xinhua News Agency cited the regional security bureau in providing the information. The Tianshan news portal, which is run by the regional branch of the Communist Party, also reported the detentions and raids, which took place in the cities of Hotan, Kashgar and Aksu. The publicity office of the Ministry of Public Security did not immediately respond to a faxed request for comment.
Based on the names of the five suspects police have identified in Thursday's attack, all appeared to be Uighurs, the region's most populous Muslim minority.
Many among the Muslim Turkic Uighur people claim they are discriminated against by the Chinese government and dominant Han ethnic group. Recent attacks blamed on radicals among the Uighurs have become bolder. However, Xinjiang experts say it is unclear whether organized groups of people are linking up to make long-term plans on how to maximize terror.
Xinhua said that police had caught an unspecified number of suspects in their 20s and 30s since Friday, who had learnt how to make explosives and given themselves physical training through watching videos on the Internet. They had used text messages and social media to chat about how to make explosives and spread the idea of "jihad," Xinhua said. Police also seized more than 200 explosive devices, it said.
In Thursday's attack, two trucks plowed through crowds at a market in Urumqi, with explosives tossed from their windows. It was the largest number of victims in a single incident of violence blamed on Xinjiang tensions in recent history. Police said that four of the assailants were killed in the bombing and that the fifth was captured Thursday night.
At the end of April, two suspected suicide bombers detonated their explosives at the exit to the Urumqi train station, killing themselves and one other person. Another eight people attack passengers with knives, leaving a total of 79 injured.
Sean Roberts of George Washington University's Elliott School of International Affairs, who has studied Uighurs in Central Asia and China, said it often wasn't clear what was being termed "religious extremism" when authorities grouped "terror and religious extremist groups" together.
"Often the way of defining religious extremism is any kind of independent religious activity which does not necessarily have any violent intention at all," he said.