China Bomber Seen as Champion of Disenfranchised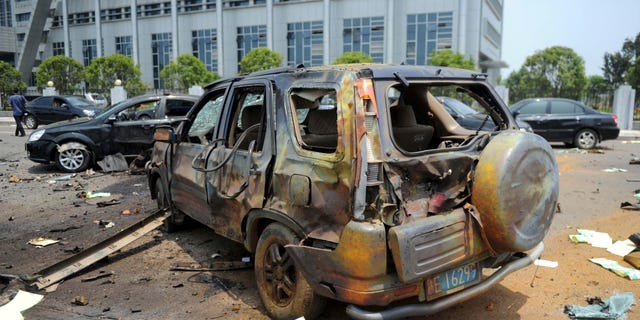 NEWYou can now listen to Fox News articles!
BEIJING -- Hours after homemade bombs blasted government buildings, some Chinese were quick to glorify the disgruntled bomb-setter -- a sign of the bitterness many feel toward the government for chasing growth while neglecting justice.
Hundreds of admiring -- and some mournful -- messages were posted Friday on the blog of Qian Mingqi, a 52-year-old jobless man who authorities say killed himself and two other people when he set off three bombs Thursday in southern Jiangxi province's Fuzhou city.
State media reports and Qian's posts on Sina Weibo, a popular Twitter-like microblogging site, reveal a man driven to violence by a 10-year battle with authorities over his forced eviction from his house and a failed quest for compensation.
"I am healthy, mentally normal, and have never committed any crimes to date," read Qian's Weibo profile. "My newly built house was illegally and forcibly demolished, causing me massive losses. Ten years of fruitlessly trying to seek redress have forced me to go on a path I did not wish to take."
Qian's Weibo page attracted more than 30,000 followers overnight before being closed by Sina on Friday.
That's despite the carnage Qian wrought -- he set bombs outside government buildings, killing two other people aside from himself and wounding nine others.
Many likely signed on to parse why a seemingly ordinary man would resort to such violence. But his message board also quickly filled up with messages of sympathy and admiration.
"Rest in peace, old Qian, you blasted a lot of people awake," one netizen, posting under the name evanfun, wrote. Many others called him a hero and promised he wouldn't be forgotten.
Qian's grievances resonate widely in China, where land disputes have mushroomed amid a fast-paced economic boom. Standoffs between tenants and developers often turn violent, with homeowners beaten by thugs or even crushed by bulldozers. Other tenants have set themselves on fire rather than face eviction.
Adding to the sense of powerlessness is a ban on public protests, a petition system in which citizens submit grievances in writing that is widely considered broken, and a legal system that favors the powerful and connected over ordinary citizens.
Liu Ping, a fellow petitioner from Jiangxi who did not know Qian personally but found his blog after the bombings, told The Associated Press that she "could profoundly understand his frame of mind, his despair."
Chinese in conflict with their local authorities are supposed to be able to visit the central government's petition bureau in Beijing for assistance but they often end up victims of fresh abuse. Grabbed off the streets in the capital, petitioners are routinely held in unofficial detention centers known as "black jails" and sent home.
"The central government's door is meant to be open to petitioners, but there are very few who take that route without being detained," said Liu whose failed efforts to protest her forced early retirement persuaded her to run for office in her hometown of Xinyu.
Despite being blocked from the ballot and kept under house arrest for five days during the election earlier this month, Liu says she got more than 200 votes as an independent candidate for district representative. She plans to run again during the next round of elections in five years but admits she's impatient for change to happen sooner.
"I think that Qian is a hero and in my mind he's gone to a heaven where there's no corruption and no forced demolition, no self-immolation. I admire him," said Liu. "He's regained his dignity."
Qian's case even prompted a soul-searching editorial in the state-run Global Times newspaper that called for a condemnation of the blasts but also an effort to understand why vulnerable people like Qian were lashing out.
"They may feel a greater sense of unfairness in a fast-growing country, where most seem to be getting better off," the paper said. "The problem thus pertains to a development question: How to achieve an even growth and preserve social justice in a radically changing country?"
The editorial appeared to want to head off any attempts to glorify the revenge attacks but was also careful to not belittle Qian's grievances.
Zhou Xiaozheng, a sociology professor at Beijing's Renmin University, said he wasn't surprised Qian was being hailed as a hero, and noted that people responded the same way when Yang Jia, a jobless Beijing man, confessed to killing six Shanghai police officers in 2008. Yang said at the time that the attacks were revenge for torture he allegedly endured while being questioned about a possibly stolen bicycle, an account of police brutality that seemed to hit a nerve with many. He was executed but is still celebrated online.
Zhou said ordinary people are able to relate to such outbursts of violence because many are themselves affected by injustice, such as the rich poor gap and forced demolitions.
"The government should alleviate these social problems, otherwise everyone is going to lose," he said.