Chile's Calbuco volcano sends new blasts into sky and prompts evacuations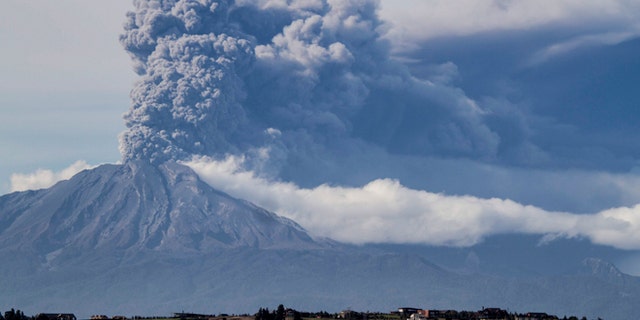 The Calbuco volcano erupted again on Thursday, sending a dark burst of ash and hot rock billowing into the air and prompting Chilean officials to issue new evacuation orders.
A thick plume poured from the 6,500-foot cone, threatening villagers already struggling to clean up from two huge blasts last week.
The eruptions at the Calbuco are the first in more than four decades. About 4,500 people have been evacuated since the Calbuco roared back to life on April 22, sending ash about 11 miles into the sky.
Calbuco roared back to life last Wednesday after lying dormant since 1972. It billowed ash about 11 miles high in the initial blast, then several hours later produced a second, spectacular outburst that turned the nighttime sky reddish orange and caused huge lightning bolts to crackle through its ash plume.
Some 4,500 people have been evacuated. But the Los Lagos agricultural service said more than 45,000 animals remain at risk from eating plants and drinking water contaminated by volcanic ash. Experts say the soil in the area may not recover for over a year.
The animals "are practically without food because the pasture ceased to exist. They're roaming on volcanic rock," said Rodrigo Lavin, head of a farming group in Llanquihue, a province of Los Lagos.
Based on reporting by The Associated Press.