Chicago grandma arrested after using power saw to cut baby's throat, authorities say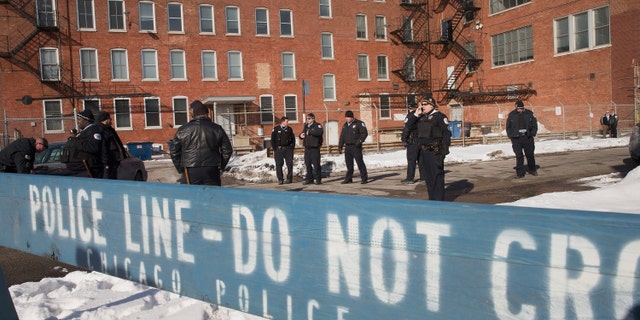 CHICAGO (FOX 32 News) – A 52-year-old woman was taken into custody Monday morning in connection with the death of a 7-month-old girl whose neck was slashed with a circular saw in Chicago's Little Village neighborhood.
Investigators suspect the woman used the saw to stop the child from crying, a police source said.
Family members told authorities that the woman had been taking antidepressant medication, authorities said.
Neighbors say the suspect, who they identified as the victim's grandmother, cared for her granddaughter, Rose Herrera, everyday.
According to neighbors, five people – including baby Rose – lived in the home in the 2800 block of South Avers Avenue in Little Village.
Family said the news of a their granddaughter's birth last summer filled the family with joy.
"The grandmother was especially happy when she was born. She even brought her to meet my landlord," said Laura Hidalgo.
Hidalgo hadn't seen the grandmother in about a month. However, she saw her just eight days ago and what she saw shocked her.
"She looked deteriorated. Her face looked gaunt. It looked like she had lost 20 pounds in only a month. I asked her what was wrong and she told me that she couldn't sleep," Hidalgo said.
No one could believe the news of baby Rose's death.
"My neighbors are very good people. I have no idea how this happened," said Francisco Arreola.
Arreola said he was asleep when he heard the commotion and went outside, but he said he never heard fights or loud cries coming from the house early Monday morning.
"It's very hard and very sad that someone would want to kill an 8-month-old baby," Arreola added.
The medical examiners office said the cause and manner of the baby's death should be known by Tuesday afternoon.
Officers responded to an EMS call about 9:30 a.m., police said. The baby had "visible signs of trauma" and was pronounced dead on the scene, police said. The Cook County medical examiner's office confirmed the death, but did not release additional details.
The woman was taken to Mount Sinai Hospital with self-inflicted wounds, police said. Her condition had stabilized.
Read more at Fox Chicago.com