Chávez's daughter makes debut as Venezuela's permanent representative to UN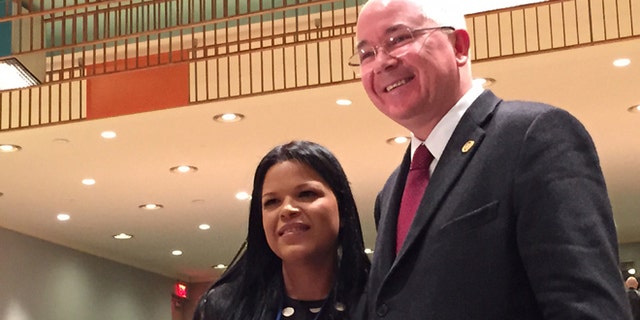 UNITED NATIONS (AP) – With more than a million Twitter followers and no diplomatic experience, the favorite daughter of Venezuela's late leader Hugo Chávez made her debut Wednesday as her country's deputy permanent representative to the United Nations.
The occasion: A "Day of Solidarity" where Syria, Russia and others lined up to slam the United States for its recent sanctions against seven senior officials of the socialist country.
Maria Gabriela Chávez confirmed it was her first public event in her new role. "I'm here to learn," she told The Associated Press, in English. She was named to the post in August, to the anger of Venezuela's opposition.
Chávez, who is in her mid-30s, acted as Venezuela's unofficial first lady to her divorced father, who had four other children. She traveled with him and attended official functions. She has called him "my giant" and had been out of the spotlight since his death two years ago.
She has a journalism degree but little apparent work experience. Her posting as a U.N. envoy has been seen as an attempt by Venezuela's embattled President Nicolás Maduro to cement his ties with the popular previous leader and his admirers.
Chávez' arrival had been expected to bring the same kind of fiery rhetoric as her father had often delivered in his speeches at the United Nations, often with the U.S. as a target. He once called President George W. Bush "the devil."
But she did not make a speech Wednesday, instead accepting hugs and warm greetings. Cuba's representative announced that it was an honor to speak in her presence.
"Her presence has its own connotation in its meaning of fortitude, those who do not kneel down," Sudan's representative said.
Venezuela this year took a two-year seat on the powerful U.N. Security Council, where it sits next to the United States as the 15 members debate and vote on matters of international peace and security. Relations between the two countries in the chamber have been described as polite so far.
When asked if she would be attending council meetings as anyone in her post might, Chávez said, "I don't know," but Venezuelan Ambassador Rafael Ramírez swept in and said, "Yes, she will."
Ramírez introduced her, to applause, as the country hosted the meeting to protest the U.S. sanctions, which were imposed last month over human rights abuses during anti-government protests.
"We will not be intimidated by the aggression of the U.S.," Ramírez said. He called Venezuela "profoundly democratic." Maduro has accused the U.S. of trying to oust his administration.
Russia, Iran, Syria and several Latin American countries criticized the U.S. sanctions and called on the Obama administration to reverse them. Russia's deputy ambassador Petr Iliichev denounced "this smear campaign."
There was no immediate comment from the U.S. mission to the U.N. on the event.