Chavez on state TV: 'I am doing well'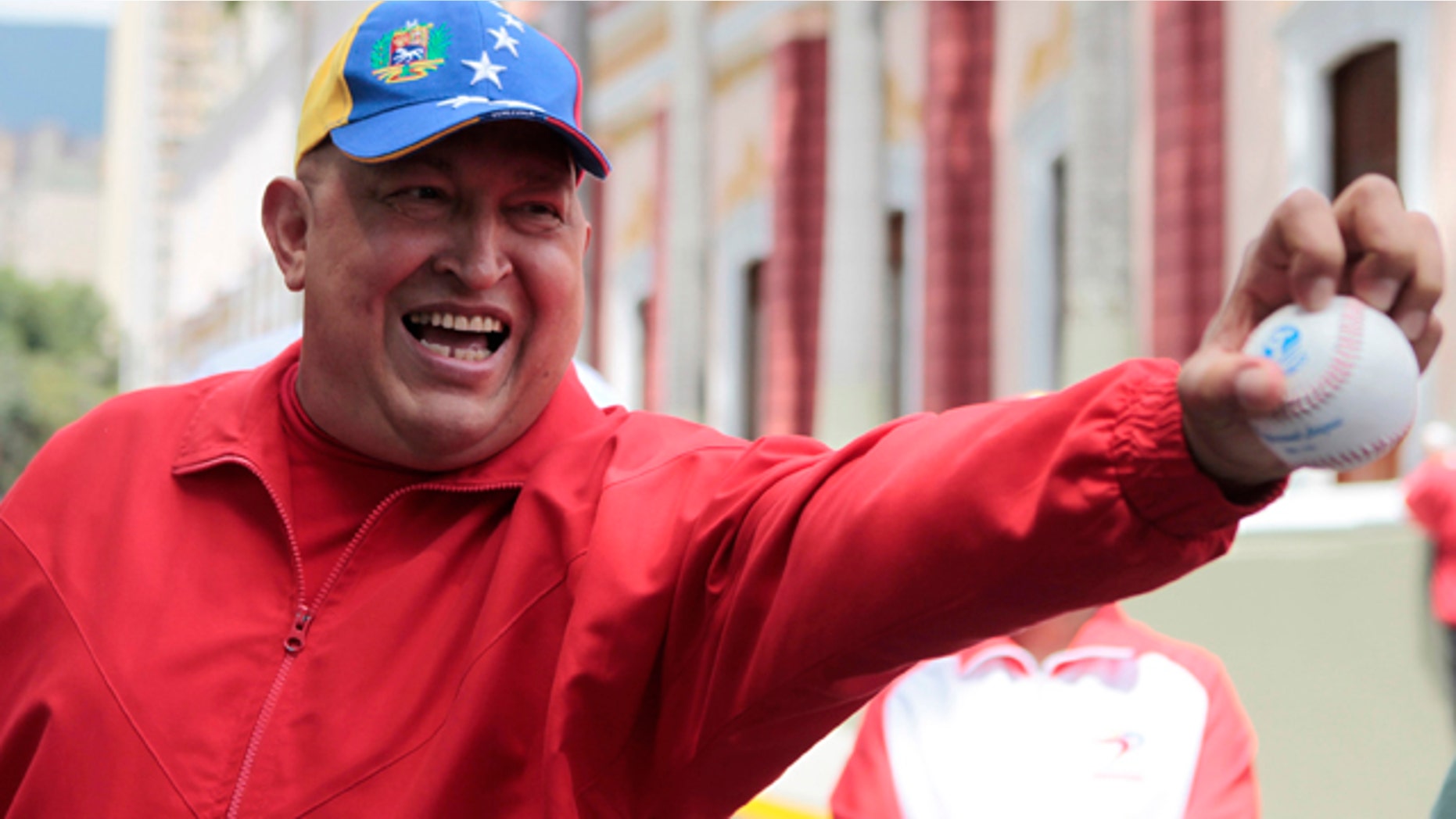 CARACAS, Venezuela – Venezuelan President Hugo Chavez made his first live communication with his country's news media in nearly a week Thursday, saying he was in good shape and recovering quickly from tumor surgery in Cuba.
In a five-minute phone conversation broadcast on state television, Chavez said he was active, eating well and even working just days after the operation to remove a possibly cancerous growth.
"I am doing well. Since the day before yesterday I am walking, roaming the hallways. I am on a good diet," Chavez said from Havana. "Right now I'm preparing for the midday walk and later some pumpkin soup ... This morning a nice yogurt.
"I got up early at 6 in the morning and was walking around like an old soldier. I signed some papers a while ago," he said by phone to an official at an event in the western state of Zulia.
"We're here in battle, and sooner rather than later I will be with you physically as well."
Chavez, 57, has been in Cuba since last Friday to have a growth removed in the same part of the pelvis where a larger, malignant tumor was extracted last year. There has been no word on whether the new lesion is cancerous, but the office of the presidency said this week that there had been no complications involving nearby organs.
Venezuelan officials said the operation was a success and urged people not to listen to unconfirmed reports that his cancer may have metastasized or that he may have suffered internal hemorrhaging.
The exact nature and location of Chavez's cancer have not been disclosed.
Isis Ochoa, minister of communes and social protection, said on television Wednesday that the government has been completely open and that any circumspection is due to security reasons.
She was responding to criticism that officials have been less than forthcoming and that
Venezuelans have a right to know more details of the president's health.
"It is risky information from the point of view of the safety of the leader, and (amid) the speculations ... from his enemies," Ochoa said. "Whenever we have to give information we do it with great responsibility, with great seriousness and through the normal channels."
Until Thursday, Chavez had not been heard from directly since he spoke with state television last Friday night upon arriving in Cuba.
His Twitter account began posting again Wednesday after being silent since Feb. 22. On Thursday, it carried a message saying Chavez was watching with satisfaction a Venezuelan television report on the progress of a housing construction program for the poor.
"Good morning, good world! I am pleased to see on our VTV how the Great Venezuelan Housing Mission is advancing! Such beautiful buildings! Live living," it read.
In Bolivia, close ally President Evo Morales said Thursday he had spoken with Chavez's daughter and foreign minister and they reported he was feeling better and would return soon.
The previous night, followers of Morales conducted a spiritual ceremony asking the Pachamama, or Mother Earth, for the Venezuelan leader's good health and quick recovery.
Atop a hill outside the capital of La Paz, about 100 people watched as a "yatiri," or Aymara priest, fed offerings of a dead llama fetus, apples, dry herbs, colorful wool and sweets into a fire Wednesday night.
"We ask our Pachamama to help and protect our brother Hugo," said the yatiri, Guadalupe Mamani.