Charleston shooter Dylann Storm Roof said Hispanics "are still our enemies" in apparent manifesto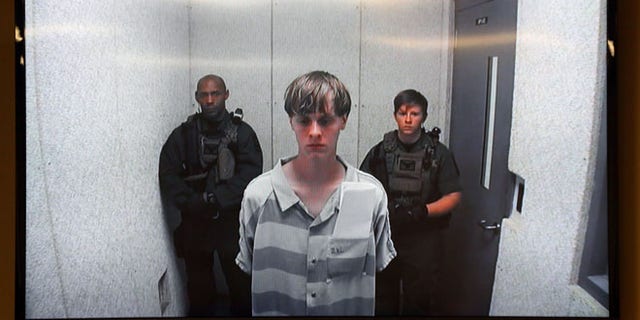 Dylann Storm Roof, the man accused of gunning down nine people at a Charleston church, seemed to have mixed feelings about Hispanics.
Roof, who is accused of targeting his victims because of their race, appears to have written in a manifesto in a website with ties to white supremacists that Hispanics are "obviously a huge problem for Americans" then says a good portion of Hispanics are white.
"There are good Hispanics and there are bad Hispanics," says the website, whose domain in February was registered under the name Dylann Roof, according to the New York Times. "I remember while watching Hispanic television stations, the shows were more white than our own. They have respect for white beauty, and a good portion of Hispanics are white."
The purported manifesto was found on a website called LastRhodesian.com and surfaced Saturday. It's unclear whether it was written by Roof, although a federal law enforcement official said the FBI is looking into the website that appears to have photos of Roof holding a Confederate flag along with a racist rant.
The website goes on a tirade against all minorities, including Jewish people, seeming to blame the groups for America's lack of culture.
The site also says that "white Hispanics make up the elite of most Hispanic countries" and there is good "white blood worth saving in Uruguay, Argentina, Chile and [Brazil].
Then he ends with "but they are still our enemies."
The writings are in line with what Roof has told friends and what he said before allegedly opening fire in the historic black church Wednesday night.
Roof, 21, had complained while getting drunk on vodka recently that "blacks were taking over the world" and that "someone needed to do something about it for the white race," according to Joey Meek, who tipped the FBI when he saw his friend on surveillance images.
Roof also told him he used birthday money from his parents to buy a .45 Glock pistol before the attack, Meek said. The affidavit said Roof's father and uncle also called authorities after seeing surveillance photos, and that the father said Roof owned a .45-caliber gun.
Roof was arrested in North Carolina after an alert motorist recognized him, and returned in shackles to a county jail where he was being held next to the cell of Michael Slager, the white former police officer charged with fatally shooting black motorist Walter Scott.
A police affidavit released Friday accused Roof of shooting all nine multiple times, and making a "racially inflammatory statement" as he stood over an unidentified survivor.
Roof's public defender released a statement from his family offering prayers and sympathy for the victims, and expressing "shock, grief and disbelief as to what happened that night."
"We have all been touched by the moving words from the victims' families offering God's forgiveness and love in the face of such horrible suffering," the statement said.
On his Facebook page, Roof displayed the flags of defeated white-ruled regimes, posing with a Confederate flags plate on his car and wearing a jacket with stitched-on flag patches from apartheid-era South Africa and Rhodesia, which is now black-led Zimbabwe.
Spilling blood inside Emanuel African Methodist Episcopal Church, founded in 1816, evoked painful memories nationwide that black churches have so often suffered from racist violence.
White landowners burned the church in 1822 after one of its founders, Denmark Vesey, tried to organize a slave revolt. Parishioners worshipped underground until after the Civil War, then rebuilt and grew stronger, eventually winning campaigns for voting rights and political representation.
The Associated Press contributed to this report.
Like us on Facebook
Follow us on Twitter & Instagram