Charges filed against former Russian defense minister that could send him to jail for 5 years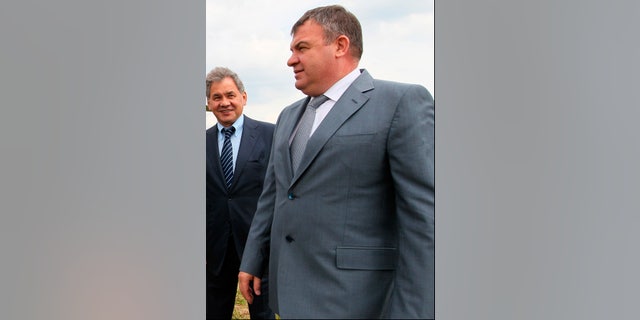 MOSCOW – Criminal charges were filed Thursday against Russia's former defense minister, who was accused of using servicemen and government funds to build a road to a vacation home and do landscaping work on the property.
If convicted, Anatoly Serdyukov could face up to five years in prison.
Serdyukov denies any wrongdoing, his lawyer Konstantin Rivkin told the Interfax news agency.
President Vladimir Putin fired Serdyukov a year ago over a corruption scandal, but most military experts believed his ouster reflected a behind-the-scenes power struggle. In overseeing a radical reform of Russia's armed forces, Serdyukov had drastically cut the number of officers and demanded higher quality and cheaper prices from defense industries.
A close ally of Serdyukov's was charged last year with fraud, but Serdyukov had been spared until Thursday, when Russia's main investigative agency charged him with negligence.
Investigative Committee spokesman Vladimir Markin said in a statement that Serdyukov had used railroad troops to build a road to an island in the southern Astrakhan region and conscripts from an aviation unit to do landscaping around a vacation home there. "So instead of serving and being trained in military affairs, some soldiers were busy planting poplar trees," Markin said.
It was only during this year's investigation that the property was put on the Defense Ministry's books, the spokesman said.
Serdyukov had caused damages to the state of 56 million rubles ($1.7 million), Markin said, adding that the investigation was still under way and more charges could be filed.
A former furniture salesman, Serdyukov had entered public service as a tax official and quickly rose through the ranks to become head of the Russian tax service before being appointed defense minister in 2007.