Catholic priest's fate unclear after reports ISIS would crucify him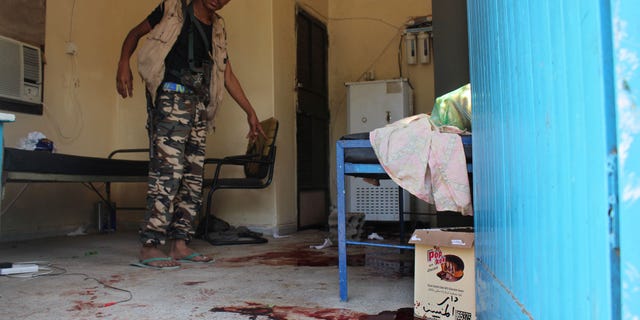 The status of a Catholic priest kidnapped by Islamic State fighters in Yemen was unclear Monday after his captors reportedly threatened to crucify him on Good Friday, the day Catholics observe the Crucifixion of Jesus Christ and his death at Calvary.
The Washington Times reported the kidnappers followed through on their threats to kill Father Tom Uzhunnalil on a cross.
However, the Rome bureau chief for Catholic News Service said Bishop Paul Hinder -- based in the United Arab Emirates' capital of Abu Dhabi -- had "indications" the Indian priest was still alive. Cindy Wooden tweeted the news Monday.
Uzhunnalil was abducted by militants when they attacked a retirement home in southern Yemen nearly a month ago, killing 16 people including four nuns, according to Missionaries of Charity, a group established by Mother Teresa.
The priest was handcuffed and taken away by the attackers when they stormed the retirement home in Aden, charity spokeswoman Sunita Kumar said. The attack left the home and its chapel in ruins.
After they entered the retirement home, the gunmen moved from room to room, handcuffing their victims before shooting them in the head. Kumar said two of the murdered Catholic nuns were from Rwanda and the other two were from India and Kenya.
"We will spare no efforts to rescue Father Uzhunnalil," Indian External Affairs Minister Sushma Swaraj said on Twitter.
There were around 80 residents at the home at the time of the attack. Missionaries of Charity nuns also came under attack in Yemen in 1998, when gunmen killed three nuns in the Red Sea port city of Hodeida.
Aden descended into lawlessness after a Saudi-led coalition recaptured the city from Shiite Houthi rebels last summer.
Yemen's civil war has split the country in two. The northern region, where Shiite rebels are in control, has been struck by an extensive air campaign by a Saudi-led coalition. The southern region, which is controlled by the internationally recognized government backed by Saudi Arabia, is suffering from a power and security vacuum.
ISIS and Yemen's Al Qaeda affiliate have exploited the lawlessness and created safe havens in the south. Al Qaeda controls several southern cities while IS has claimed responsibility for a wave of deadly attacks in Aden, including a suicide bombing that killed the city's governor and several assassination attempts on top officials.
The Associated Press contributed to this report.