Catalonia voters protest against violent police tactics after independence vote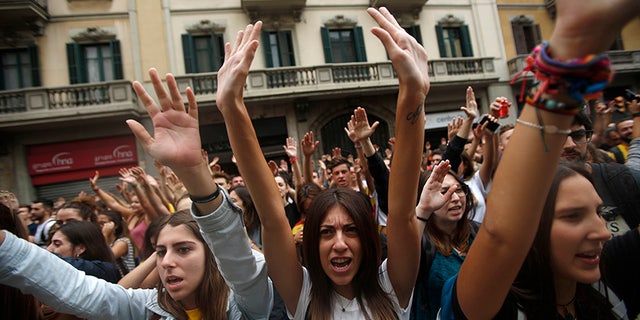 Two days after Catalonia's highly-contested referendum for independence, thousands took to the streets of Barcelona on Tuesday to protest what they say were heavy-handed police tactics they claimed turned peaceful demonstrations into scenes of mass violence.
Large crowds gathered outside the national police headquarters in Barcelona. The protesters accused Spanish police officers of becoming an "occupying force" in the region and urged them to leave.
"People are angry, very angry," said Josep Llavina, a 53-year-old self-employed worker who traveled to Barcelona from a nearby town to participate in the protests. "They brought violence with them. They have been beaten people who were holding their hands up. How can we not be outraged?"
The outrage grew as mobile phone footage made the rounds on social media showing officers in body armor pushing people, dragging them by the hair and striking them with batons.
More than 890 civilians were treated for injuries, most of them not serious, according to Catalan regional health authorities. Spain's Interior Ministry says 431 National Police and Civil Guard agents were injured, too.
The Spanish government, acting on a judge's order to shut down the referendum, defended the response as professional and proportionate.
The police response drew worldwide criticism – though the European Union and most governments backed Spain's stance in what has become the country's most serious political crisis in decades.
Juan Ignacio Zoido, Spain's interior minister, accused the pro-independence Catalan government of representing "totalitarianism" and "hatred" for encouraging protests against Spanish police.
"We will not accept the incitement of hatred toward the police and Civil Guard nor that those who have done so much for Spaniards are harassed," he said in a tweet.
He blamed Catalan regional president Carles Puigdemont for the protests after he demanded police leave the region.
Demonstrators arrived by foot, walking along empty boulevards and streets closed off by municipal police as tourists watched from a distance.
Protesters blocked several roads in the city and bus and taxi services were affected.
The strike was not backed by Spain's two main unions, the UGT and CCOO groups, and there were no reports of disruptions affecting big industry or Barcelona's airport.
"I disagree with the strike. In fact, at work nobody told me anything about a strike. So I decided to come," said Jose Bolivar, 54 a town hall employee.
Office worker Antonia Cuello, 37, said the protests were a major disruption but she understood why they had to happen.
"On one side, it is a hassle to try to get to work in the midst of a strike," she said. "We are suffering this because a few decided to behave in an improper way. On the other hand, I understand the circumstances surrounding the strike."
The strike was backed by the famed Barcelona soccer club and two other Catalan teams in the Spanish soccer league.
La Liga leaders said none of its professional or youth teams are practicing on Tuesday and the club headquarters is closed. The Girona soccer team also suspended practice while Espanyol had players undergo physical training behind closed doors.
Barcelona defender Gerard Pique, one of the most outspoken supporters of Catalonia's independence, was harassed by fans Monday when he reported to Spain's national team training camp in Madrid ahead of upcoming World Cup qualifiers.
Police had to intervene as fans chanted and held posters against him. Spain coach Julen Lopetequi told the COPE radio station the central defender remains motivated despite the abuse from fans. He praised Pique's commitment to the national team and said there is no reason not to have him on the squad.
Catalan officials said that 90 percent of the 2.3 million people who voted Sunday were in favor of independence. But fewer than half of those eligible to vote turned out. The vote was boycotted by most of Spain's national parties on grounds it was illegal and lacked basic guarantees, such as a census.
Puigdemont has vowed to act on the results regardless of the legality of the referendum. He is expected to present them this week to Catalonia's regional parliament, which could trigger the process of starting to break away from Spain. Such a move that would inevitably be met by a robust response from Madrid, and Spain's interior minister has said the 5,000 extra officers deployed to Catalonia will stay as long as necessary.
The Associated Press contributed to this report.