'Caravan' marches on unimpeded, despite Obama administration spending millions to help Mexico control border
Though Mexico claimed just four years ago it had "absolute control of the southern border," the planned stringent security checks appear to have broken down -- or been bypassed -- by the caravan of more than 1,000 Central Americans making their way through the country en route to the United States.
The group, which is expected to reach the Mexico-U.S. border by mid-April, has drawn the attention and ire of President Trump, who on Monday blasted Mexico for not using its "absolute power" to stop the caravan.
"Mexico has the absolute power not to let these large 'Caravans' of people enter their country. They must stop them at their Northern Border, which they can do because their border laws work, not allow them to pass through into our country, which has no effective border laws," Trump tweeted.
Many of the border laws Trump was speaking about were passed after a surge of unaccompanied minors from El Salvador, Guatemala and Honduras passed through Mexico on their way to the U.S. in 2014. The influx prompted the Obama administration to enact emergency measures to stem the flow on its side of the border.
Meanwhile, Mexico said it would also step up enforcement on its southern border, and planned to stop people from boarding freight trains while opening new border control stations.
"Never before has Mexico announced a state policy on the border, and now it has," Interior Secretary Miguel Ángel Osorio Chong told the New York Times. "It is absolute control of the southern border."
Mexico's Southern Border plan was to include "increased security at 12 ports of entry into Guatemala and Belize and increased immigration enforcement along known migration routes, including northbound trains and bus stations," according to an April 2016 report from the Congressional Research Service, which serves as the public policy research arm for Congress.
Since that rush of illegal immigrants, the Obama Administration and Congress had set aside $130 million for Mexican border security, with at least half to support southern border efforts. But of that initial amount, only $20 million had been spent at the time of the report, "mostly in the form of nonintrusive inspection equipment, mobile kiosks, canine teams, and training in immigration enforcement."
As the plan was implemented, officials also noted there was a "sharp increase" in the amounts of apprehensions and deportations of Central Americans in Mexico. In 2015, nearly 167,000 people from the three countries involved in the 2014 surge were apprehended, up from 102,000 the previous year.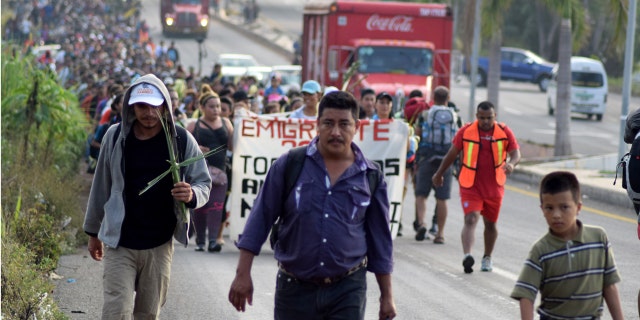 In terms of the amount of people from those countries reaching the U.S. border, officials noted that as Mexico stopped more people there was a drop off. In 2015, the number of apprehensions at the border fell from 239,000 in 2014 to 135,000 in 2015.
TRUMP DECLARES 'NO MORE' DACA DEAL AFTER REPORT OF CARAVAN WITH CENTRAL AMERICANS HEADING TO US
"These figures suggest that migration outflows from Central America remained fairly stable throughout FY2015, but fewer migrants reached the U.S. border as a result of increased apprehensions by Mexican authorities," the report said.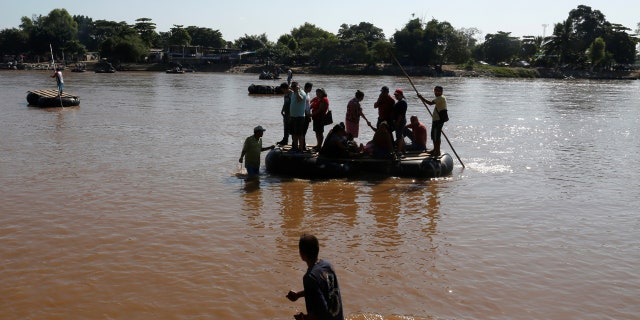 But migration scholar Francisco Alba at the Colegio de Mexico in Mexico told The New York Times at the time the 2014 influx was almost impossible to stop.
"There is not really much the country can do about it," he told The Times. "It cannot really stop these flows. Its tradition is to not have these tight controls and to have a relatively accommodating attitude toward migration, to a point."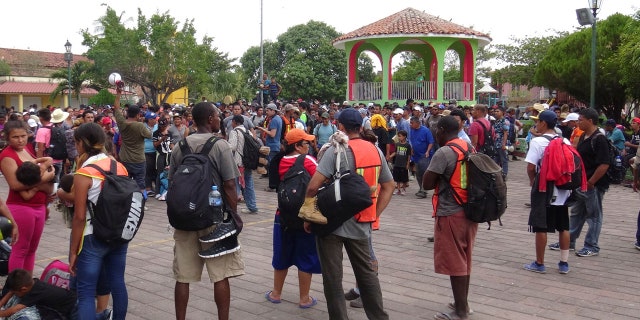 In 2016, the Texas Tribune highlighted the ongoing issues with Guatemala, where lax border oversight has allowed not just constant migration but also the illicit trading of goods, which has helped to grow the economy in the country's impoverished border towns.
A paper in 2016 from Rice University's Baker Institute for Public Policy called "Mexico's Not-So-Comprehensive Southern Border Plan," said Mexico shifted funding away from the southern border program. In addition, Mexico also did not create nearly 200 planned economic development projects in its southern border region, according to the report.
"Like similar policy initiatives previously implemented in Mexico, the CPSB is fading into oblivion, but not without leaving negative consequences on Mexico's migration policy," the report concluded. "Even though the program did delay for some time the flow of migrants and potential asylum applicants to Mexico, a process that was already underway prior to 2014, the problem has not been solved."
MEXICAN, US TOP OFFICIALS DISCUSS WAYS TO SEAL BORDER WITH GUATEMALA
Then, late last month, a new caravan began in the town of Tapachula, just on the other side of the border from Guatemala, and started heading north in hopes of entering the United States, either illegally or by asking for asylum.
Organized by Pueblos Sin Fronteras, or People Without Borders, the caravan traveled through Mexico without authorization last week and authorities in Mexico have not yet attempted to stop the migrants, about 80 percent of them from Honduras, according to Buzzfeed News. As of Monday, the group was in Matías Romero, Mexico, about 1,000 miles south of the U.S. border town of Laredo, Texas.

A member of the caravan told Buzzfeed this was going to be his third attempt at getting to the U.S.
"Going alone is risky. You're risking an accident, getting jumped by robbers, and even your life," Mateo Juan, 29, told BuzzFeed News. "All of that, and then you don't get to the United States. The caravan is slower but you know you're going to get there safely."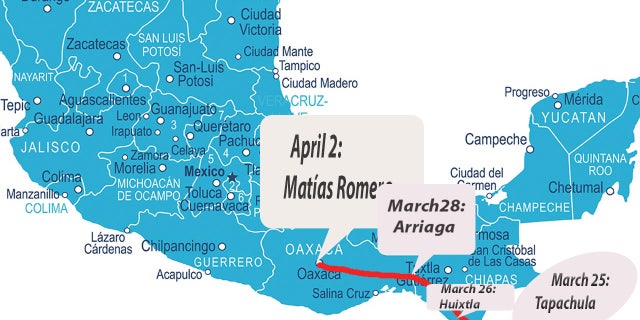 Juan had previously been pulled off a bus headed towards the U.S. border by Mexican immigration officers, he told Buzzfeed.
National Border Patrol Council union chief Brandon Judd told "FOX & Friends" on Monday that the migrants' hopes are riding on the benefits of catch and release, in which illegal immigrants are initially detained in the U.S. but then soon released while they await court hearings.
"Well when they come here and they ask for asylum, we'll take them into custody, we'll do hours' worth of processing and then we'll turn them over to ICE, and then ICE will release them, based upon what they call a credible fear and then they'll melt into the shadows," he said.
Mexico's foreign minister, Luis Videgaray, fired back at the assertion his country wasn't doing enough to stem the tide of the caravan, saying in a tweet: "Every day Mexico and the US work together on migration throughout the region."