Car bomb targeted Somali police station, at least 3 killed
A suicide car bomber detonated near the gate of a police station in the Somali capital Thursday, killing at least three people and wounding several others.
Col. Ahmed Warsame said the blast targeted the Waberi district's police station on a busy road in Mogadishu. He said the bomber was trying to drive into the police station's gate but detonated against the wall instead.
CONGO RIGHTS GROUP: ARMY KILLS 12 REBELS AFTER BENI ATTACKS
There are no immediate claim for responsibility but the Somalia-based al-Shabab extremist group has been targeting high-profile areas in Mogadishu in recent months.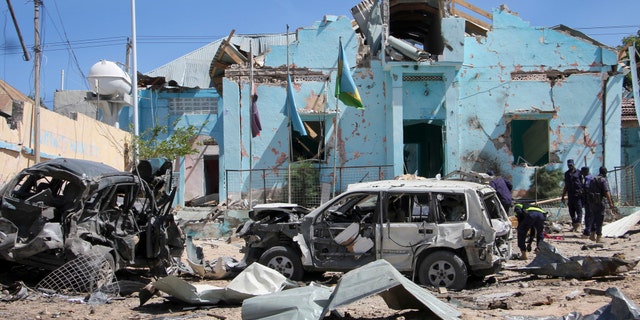 NEWYou can now listen to Fox News articles!
The blast comes just days after a suicide car bomber posing as a milk delivery van detonated at Wadajir district headquarters in Mogadishu, killing 15. It also comes a week after al-Shabab gunmen carried out an overnight siege on a popular restaurant in the Somali capital, killing at least 31 people.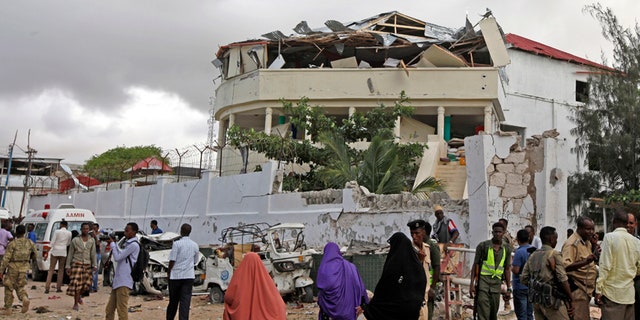 The al-Qaida-linked al-Shabab group often targets high-profile areas of Mogadishu, including hotels, military checkpoints and areas near the presidential palace. It has vowed to step up attacks after the recently elected government launched a new military offensive against it.
Al-Shabab last year became the deadliest Islamic extremist group in Africa, with more than 4,200 people killed in 2016, according to the Washington-based Africa Center for Strategic Studies.
The extremist group also faces a new military push from the United States after President Donald Trump approved expanded operations, including airstrikes, against al-Shabab.
The Associated Press contributed to this report.