Car bomb kills 2 outside courthouse in Turkey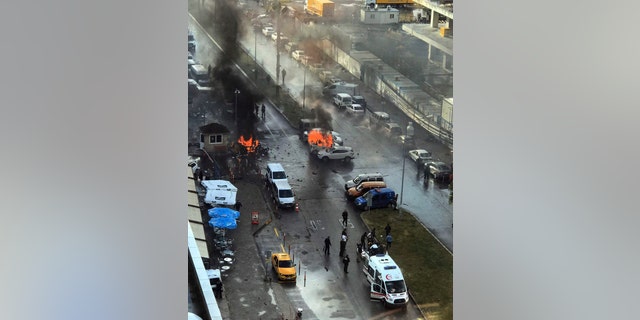 A car bombing linked to a major Turkish insurgent group killed at least two people in western Turkey on Thursday, police announced, saying officers shot and killed two attackers.
TURKEY POLICE CONDUCT NEW RAIDS AFTER NIGHTCLUB ATTACK
The blast unfolded in the coastal city of Izmir. It remained unclear whether a third suspect was on the loose. Local media had reported soon after the explosion that a wanted suspect was wearing a black coat and a white beret, but officials later said only that police killed two attackers.
The unnamed killers, packing an automatic rifle, a rocket launcher and eight hand grenades, fought with police outside a courthouse in the city before blowing up their car, an official in Izmir said, adding that the outlawed Kurdistan Workers' Party, or PKK, likely ordered the attack.
FRANKLIN GRAHAM, SAEED ABEDINI PUSH FOR RELEASE OF PASTOR IMPRISONED IN TURKEY
"Our police officers wanted to stop a vehicle at a police checkpoint in front of Bayrakli courthouse. In this clash, terrorists detonated the car bomb while trying to escape," provincial governor Erol Ayyildiz told reporters. The cache of weapons indicated they may have plotted a larger attack, Deputy Prime Minister Veysi Kaynak said.
The two people killed in the bombing were a police officer and courthouse worker, investigators told local media. Ambulances raced to the scene, Sky News reported.
"Six or seven" people were also wounded in the attack, Ayyildiz said, adding that police vigilance had foiled a bloodier assault.

The blast unfolded near a courthouse entrance used by judges and prosecutors, local media added. Images from the scene showed flames erupting around the car as smoke filled the air. In a controlled blast, police detonated a second car that may have belonged to the attackers, Ayyildiz said.
The PKK had tried launching as many as 313 thwarted attacks throughout 2016, compared to 22 from the Islamic State terror group, Turkey's interior minister told the country's parliament on Thursday.
Still, Turkey remained on edge after a string of attacks in recent months, including the rampage at a nightclub early on New Year's Day in Istanbul.
Police were closing in on the gunman who killed 39 people at the club, a senior official told The Associated Press on Thursday, insisting the attacker's possible whereabouts and contacts had been established.
ISIS claimed responsibility for Sunday's attack.
The Associated Press contributed to this report.