Car bomb explosion at Hezbollah stronghold in Lebanon injures 53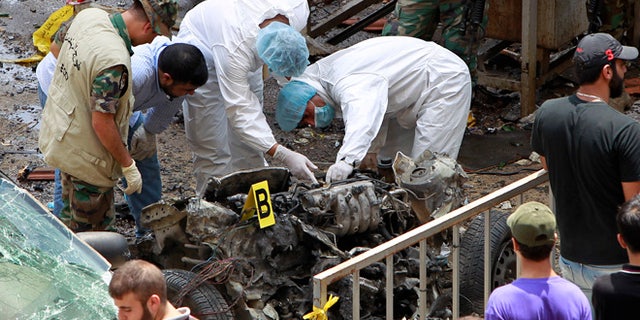 BEIRUT – A car bomb rocked a stronghold of the Shiite militant Hezbollah group south of the Lebanese capital Tuesday, wounding at least 53 people and setting several cars ablaze in the most serious knock-on effect from Syria's civil war on its smaller neighbor since the Syrian crisis began, officials said.
The powerful blast struck a bustling commercial and residential neighborhood as many Lebanese Shiite Muslims began observing the holy month of Ramadan, and is the worst explosion to hit Beirut's southern suburbs in years. While there was no immediate claim of responsibility, there have been growing fears in Lebanon that Hezbollah could face retaliation for its now overt role fighting alongside President Bashar Assad's troops inside Syria, including, activists say, in the embattled city of Homs near the Lebanese border.
The bombing also is likely to inflame already simmering tensions in Lebanon itself, where deadly clashes between Shiites and Sunnis have grown increasingly common as the civil war in Syria has taken on ever darker sectarian overtones. Some Sunnis in Lebanon, many of whom support Syria's rebels, have expressed growing resentment over what they see as Hezbollah's unchecked power in the country.
Tuesday's blast struck the area of Beir el-Abed, and was most likely caused by a car bomb, officials said on condition of anonymity in line with regulations. They said it went off in the parking lot near the Islamic Coop, a supermarket usually packed with shoppers, and a petrol station.
"The explosion was so strong I thought it was an Israeli air raid," said Mohammad al-Zein, who lives near the blast site. "My wife was sleeping in bed and all the glass fell on her, injuring her in the mouth, arms and legs."
Another resident said that he was fasting on the first day of Ramadan and was on his way to shop for the evening meal that would break his daylong fast.
"I was riding my motorcycle on my way to a sweets shop and then there was this massive explosion that knocked me off and I fell on the ground," said a 52-year-old employee of a private company. He declined to be named out of security concerns.
Health Minister Ali Hassan Khalil said 53 people were wounded. He said most of injuries were light, and that many of them were caused by breaking glass.
The parking lot where the bomb went off is a few hundred meters (yards) away from what is known as Hezbollah's "security square," where many of the party's officials live and have offices. Hezbollah leader Hassan Nasrallah received dignitaries there before the 2006 war. The area was bombed by Israel in that conflict and Nasrallah has gone underground since then, only rarely appearing in public and never for more than few minutes, fearing Israeli assassination.
"This (blast) is a message, but we will not bow," said Ziad Waked, a municipal official speaking to Hezbollah's Al-Manar television.
With smoke still hanging in the air after the bombing, a group of about 100 outraged Hezbollah supporters stormed through the area, carrying aloft pictures of Nasrallah, shouting in support of their leader and chanting sectarian slogans.
Hezbollah operatives fired in the air to disperse people who attacked the interior minister with stones after he inspected the scene of the blast, trapping him for 45 minutes in a building before he was escorted through a backdoor.
"The Shiite blood is boiling," the Hezbollah supporters shouted.
Minister Marwan Charbel is seen by some Shiites as sympathetic to hardline Sunni cleric Ahmad al-Assir, who was agitating against Hezbollah for months and is now on the run.
Tuesday's explosion is one of the biggest in the capital's southern suburbs since the end Lebanon's 15-year civil war in 1990, and a major breach of a tightly controlled, high security area.
"It is a large area heavily populated. No force in the world can protect every area and every street," Hezbollah lawmaker Ali Moqdad said. "Such acts are a reminder of darker days which the Lebanese would like to erase from their memories."
Television footage from the scene revived memories of that conflict, when car bombs set by sectarian groups were common. There have been numerous car bombs targeting politicians and journalists since then, but random car bombings have been rare.
Hezbollah operatives in civilian clothes, some of them carrying Kalashnikov rifles, cordoned off the site of the explosion with yellow ribbons. They and Lebanese security officials barred journalists from approaching the site itself.
Ambulances and fire engines with wailing sirens raced to the area, and witnesses said casualties were rushed to two nearby hospitals.
The power of the explosion shattered windows and damaged several buildings in the busy residential and commercial area. A security official said the bomb was placed in a car and that it weighed 35 kilograms (70 pounds).
In May, two rockets slammed into a Hezbollah stronghold in south Beirut, wounding four people. The rockets struck hours after Nasrallah vowed in a speech to help propel Assad to victory in Syria's civil war. In June, a rocket slammed into the same area, causing no casualties.
Hezbollah has openly joined the fight in Syria, and the group's fighters were instrumental in a recent regime victory when government forces regained control of the strategic town of Qusair near the Lebanese border.
Lebanon's Sunni Muslims mostly back the overwhelmingly Sunni rebels in Syria, while many Shiites support Assad, who is a member of Syria's minority Alawite sect, an offshoot of Shiite Islam.