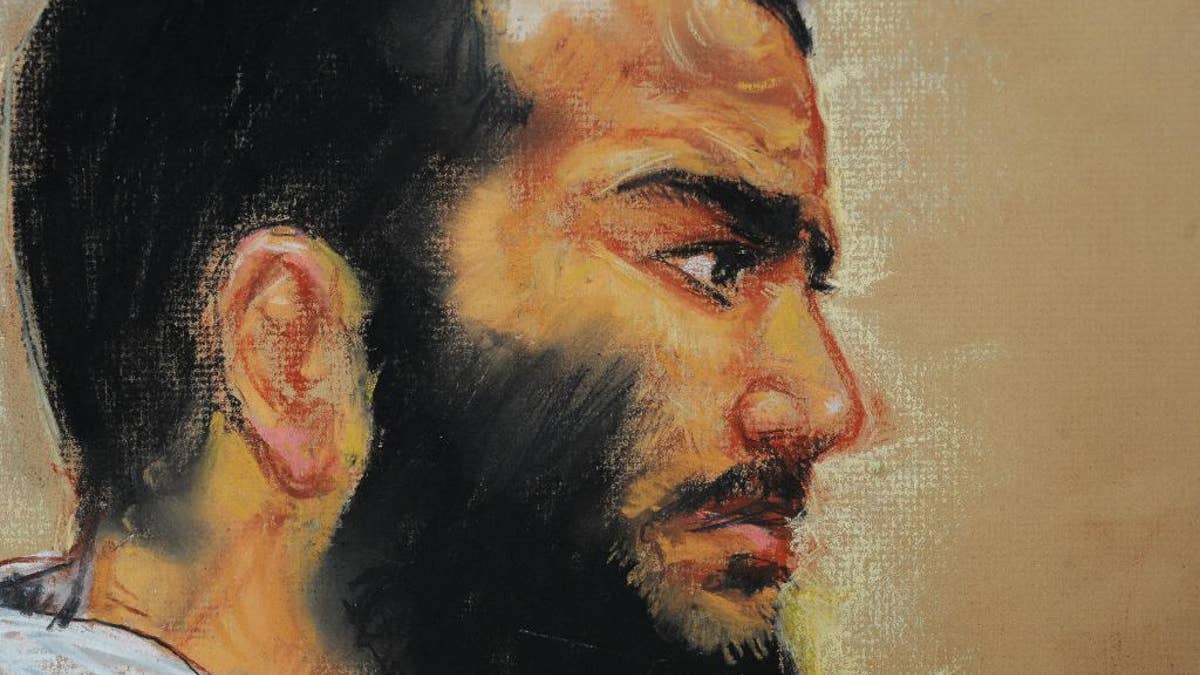 EDMONTON, Alberta – The Canadian government was in court Tuesday morning seeking to block the release on bail of a former Guantanamo Bay inmate while he appeals his conviction for war crimes in the United States.
Omar Khadr's release from prison could come as early as Tuesday evening if Ottawa's 11th-hour attempt to stop it fails. The government filed a request seeking an emergency stay of a judge's decision to grant bail late Monday.
Toronto-born Khadr spent a decade in the U.S. prison at Guantanamo Bay, Cuba. Since 2012 he's been held in a Canadian prison in the western province of Alberta, serving out an eight-year sentence handed down by a U.S. military commission in 2010. He was convicted of five war crimes, including throwing a grenade when he was 15 years old that killed a U.S. Army sergeant in Afghanistan during a 2002 firefight.
Khadr, once the youngest detainee at Guantanamo and now 28, has since said he only agreed to a 2010 plea deal to get out of Guantanamo and return to Canada.
Canada's government said that granting bail to Khadr would threaten the entire system of international prisoner transfers.
"A lack of clarity in the international transfer process may jeopardize the system as a whole," the government stated in documents obtained by The Canadian Press. "(Khadr's) release unsettles the foundation of this system by introducing uncertainty and a lack of control over the manner in which Canadian offenders' sentences are enforced."
The government argues that allowing Khadr out — given his long incarceration — presents an unprecedented risk to the public.
"Springing (him) into the community rather than allowing him to continue his planned reintegration poses an undue risk," the government stated. It notes he has applied for parole in June.
In response, Khadr's lawyers said the government's case for a stay was weak.
For one thing, they said, the government acknowledges Khadr's case is unique and will have little or no effect on other prison transfers.
"The onus is on the (Crown) to establish that irreparable harm will actually occur if a stay is not granted," they stated in their reply brief.
On Monday, the government also filed its formal notice of appeal of the April 24 decision granting Khadr bail by Justice June Ross of the Alberta Court of Queen's Bench.
The last-ditch stay application, slated to be heard by a single Court of Appeal justice on Tuesday morning, says the government "will suffer irreparable harm" if Khadr is released.
In a statement, a Khadr support group denounced the government's "unrelenting vilification" of the prisoner and its "knee-jerk" appeal of every court decision favorable to him.
"The rights, freedom and liberties of all Canadians are diminished by the actions of this government," Free Omar Khadr Now said.
Ottawa maintains that Ross had no jurisdiction to hear Khadr's bail application under the provisions of the International Transfer of Offenders Act — the treaty that allowed his return to Canada. Canada's government argued Ross gave "short shrift" to Canada's "real and consequential" international obligations and she was wrong to find that the right to seek bail pending appeal is a constitutionally guaranteed "principle of fundamental justice."
Canada said allowing Khadr out on bail could jeopardize the repatriation of other Canadian prisoners and damage Ottawa's relations with Washington.
But the U.S. State Department said in a statement to CBC Monday that releasing Khadr on bail would not strain Canada-U.S. relations.
Defense attorneys say Khadr was pushed into war by his father, Ahmed Said Khadr, an alleged al-Qaida financier whose family stayed with Osama bin Laden briefly when Omar Khadr was a boy. His Egyptian-born father was killed in 2003 in a Pakistani military operation.
Prime Minister Stephen Harper's Conservative government has long refused to support Omar Khadr, reflecting ambivalence in Canada over the Khadr family.