Canadian accused of killing lover and mailing body parts collapses in court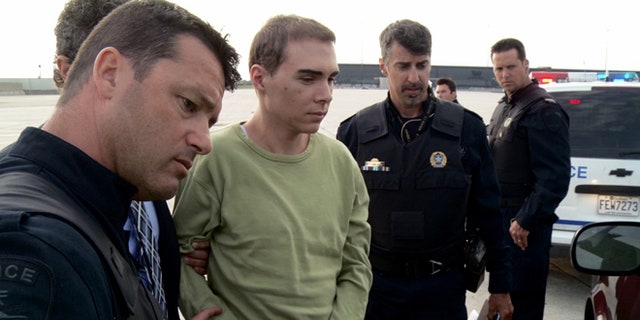 MONTREAL – A Canadian porn actor accused of dismembering his Chinese lover and mailing the body parts to political parties and schools collapsed in court during his preliminary hearing Tuesday.
Luka Magnotta has pleaded not guilty to first-degree murder in the gruesome slaying of Jun Lin last May. He is accused of killing the university student and posting a video online that shows him stabbing and having sex with the dismembered corpse.
Magnotta, 30, appeared distressed listening to the evidence, which is subject to a publication ban.
He held his hand over his mouth and asked the guard in his glass-enclosed defendant's box for a five-minute break.
He stood up and collapsed on the floor just after the judge agreed to an extended lunch break.
The hearing was suspended for the rest of the day.
"He really doesn't feel well and he's not able to continue," his lawyer Luc Leclair told the judge. Leclair said he believes his client will be fine with a little bit of rest.
Judge Lori-Renee Weitzman said they could not continue without Magnotta present and ordered the case suspended until Wednesday morning.
During the morning segment, Magnotta had held his hand over his mouth, as if he felt ill. His eyes were closed for much of the session. He appeared to wipe away tears behind his glasses several times. He kept his head down while one particular piece of evidence was presented.
The hearing, which has lasted several days, will determine whether there is sufficient evidence to send Magnotta to trial.
Lin's parents were not in the courtroom Tuesday morning. His father has attended the preliminary hearing at times but has not stayed in the courtroom when the most graphic evidence has been heard.