Canada takes hard line against Iranian regime as elections loom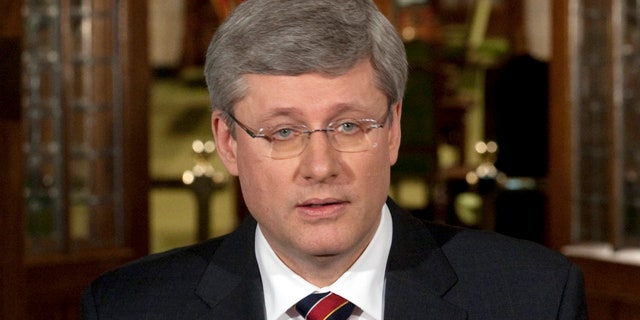 NEWYou can now listen to Fox News articles!
The loudest voice railing against the Iranian regime from North America is Canada's.
The conservative administration of Prime Minister Stephen Harper has taken a hard-line stance against Iran as the Islamic Republic's June elections approach, mounting a social media campaign aimed at toppling Iran's theocratic rulers and leveling unusually harsh rhetoric at Tehran. Canada, which has an Iranian population of more than 100,000, pulled its diplomatic presence from Iran in September 2012, a move the U.S. made back in 1979, amid the hostage crisis.
"The regime is hollow," Canadian Foreign Affairs Minister John Baird said in a recent appeal to Iranians to vote out the regime. "It does not have the depth, the intellect, the humanity, or the humility to bring about a better future for its people. I believe the Iranian people want change."
Canada announced this week that it will boycott a United Nations-sponsored conference on disarmament during the one week of the session that it is being chaired by Iran, claiming that the automatic appointment makes a "mockery" of efforts against arms proliferation.
In addition, Baird has taken to social media to launch a campaign to ignite democratic opposition to the Iranian regime. The campaign is designed around Iran's "halal" Internet firewall, which blocks foreign websites after 60 seconds.
[pullquote]
Canada's vocal stance is in sharp contrast to the more muted approach taken by Washington, which has led an international embargo against Iran but not backed that action with rhetoric that matches Ottawa's.
"What has really crippled the [Iranian] Republic is U.S. sanctions," said Hooshang Amirahmadi, an Iranian-born professor at Rutgers University who is running for president of his homeland. "I think they [U.S.] are following the saying, 'Speak softly and carry a big stick,' while Canada is doing the opposite. Speaking harder while carrying a softer stick."
Amirahmadi added that Iran and Canada had better relations in the past, but the ties became strained after the murder of Iranian-Canadian photographer Zahra Kazemi by regime officials in 2003. The relations have further deteriorated during Harper's tenure, likely due to the administration's strong relationship with Israel.
Canada also imposed sanctions against Iran in 2006 after reports of an escalation in its rogue nuclear program, and broadened them in December. Canada has also declared Iran a state sponsor of terrorism.
In the months leading up to Iran's presidential elections, Baird has directly addressed the Iranian people through his campaign, telling them they are the regime's greatest fear and urging them to "take power out of the hands of puppet masters and place it in your hands, the hands of the people."
Ayatollah Ali Khamenei, Supreme Leader of the theocratic government, is "the greatest threat to international peace and security in the world today," Baird said.
Other Iranians critical of Tehran say Canada can do more than simply talk.
"We appreciate the Canadian government's focus; however, we would like to see them take more action," Hadi Ghaemi, executive director of the International campaign for Human Rights in Iran, told FoxNews.com. "They could follow in the steps of the EU and the U.S., who have blacklisted the regime."
Instead, many cronies of outgoing President Mahmoud Ahmadinejad and other powerful members of the regime have found a home in Canada after leaving Iran, said Ghaemi.
"Canada is still a destination for many in the regime when they leave Iran," he said, noting that the head of the Iranian Central Bank fled to Canada after a scandal erupted a year ago. "Even if most members of the regime aren't heading to Canada, their money certainly is."