Cameron Focuses on Business Ties on Big China Trip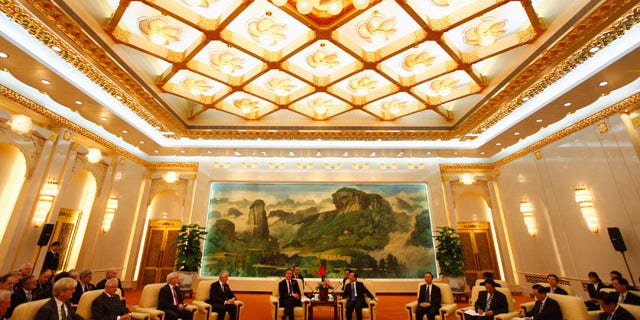 BEIJING -- British Prime Minister David Cameron focused on expanding business ties as his country's largest ever official delegation visited China on Tuesday in the latest European drive to win foreign contracts and spur sluggish home economies.
Last year, China was Britain's third-largest source of imports and ninth-largest export market. Cameron has said he hopes to see annual bilateral trade double by 2015 to more than $100 billion, including $30 billion per year in British exports.
Underscoring his support for British businesses, Cameron's first stop after arriving was a Beijing branch of British supermarket chain Tesco's, which has nearly 100 outlets in China and plans to add another 20 by year-end.
about 50 business leaders, met with Premier Wen Jiabao at the Great Hall of the People after a formal welcoming ceremony.
"My new government does highly value the relationship between Britain and China, and we believe that this is an area where there should be great continuity with the last government who helped establish this very strong relationship," Cameron said.
The two-day visit marks Cameron's second major foray to court an emerging economy since taking office in May. He went to India in July.
Human rights and global security concerns surrounding Iran and North Korea appear secondary on the China visit so far, although Cameron has said those issues would be raised in Tuesday's private talks with Wen and further discussions with President Hu Jintao on Wednesday.
On Wednesday, Cameron will deliver a speech insisting Britain retains considerable global influence despite its economic woes, and constitutes an important trading partner for China.
Cameron is joined by executives from Royal Dutch Shell PLC, Tesco PLC, Barclays bank and Diageo PLC, among others. Treasury chief George Osborne, Business Secretary Vince Cable, Energy and Climate Change Secretary Chris Huhne and Education Secretary Michael Gove are also on the trip.
Cameron's visit comes on the heels of Hu's trip to France and Portugal last week that resulted in $20 billion worth of contracts for French and European firms. Wen visited several European countries in September and October, conveying pledges to strengthen trade and purchase Greek bonds.
Boosting trade and avoiding protectionism will also be on the agenda at the Group of 20 meeting Thursday and Friday in Seoul, South Korea, where Chinese and European officials will meet with counterparts from the United States and elsewhere.
Cameron's visit is the first by a British leader since China executed a 53-year-old British man, Akmal Shaikh, for drug smuggling in December, despite an official appeal on his behalf from London. The execution drew condemnation from British politicians and rights groups who argued Shaikh was delusional and had unwittingly been exploited by criminals.