Businesses resume slowly after Thai protesters give back major intersections in capital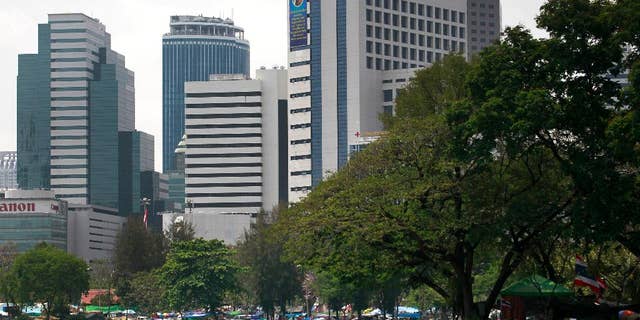 BANGKOK – Thailand's political crisis is far from resolved, but Bangkok had at least one reason to breathe a temporary sigh of relief Monday: Major intersections barricaded by the protesters reopened to traffic for the first time in six weeks.
That's good news for businesses — including those that support the demonstrators, and for drivers who have faced blocked roads and traffic even more snarled than usual during the occupation of half a dozen of the capital's major arteries.
"I'm really glad they moved out," said Rattanaporn Intarit, who owns a boutique selling nightgowns and women's clothes at Siam Square, a vibrant commercial and shopping area in the city center. "I don't care why they did it, but I'm just glad they're gone and I hope the economy will be better."
The protesters have struggled unsuccessfully for months to force Prime Minister Yingluck Shinawatra to step down and make way for an unelected council to institute anti-corruption reforms. Over the last several weeks, protest sites had been attacked almost daily, and sporadic violence and clashes between security forces and demonstrators have killed 23 people and injured more than 700.
On Monday, two grenades were thrown at the Criminal Court's building in northern Bangkok but no one was injured, according to court officials.
So far, the army — which has staged 11 coups since the end of absolute monarchy in 1932 and is seen as sympathetic to the demonstrators — has shown little appetite for intervening. Most believe the real battles will now take place in court.
Yingluck faces several legal challenges that could force her from office, and has to contend with a judiciary which has a record of hostility toward her and her political allies.
Last week, Thailand's anti-graft commission began proceedings to charge Yingluck with negligence for allegedly mishandling a government rice subsidy program. Yingluck could eventually face impeachment by the Senate or criminal charges if the National Anti-Corruption Commission delivers a final ruling against her.
Although protesters are still blocking the roads near Yingluck's office at Government House, and a stretch of road leading to a government office complex in northern Bangkok, they began packing up Sunday to leave several other major intersections.
On Monday, the city center reopened for traffic, with cars and pedestrians moving into areas once barricaded with sandbag walls and steel gates that were patrolled by self-appointed protest guards who searched vehicles and bags of those passing by.
The dwindling number of demonstrators moved their to central Bangkok's Lumpini Park, turning what was once a beautiful urban green space into a sea of tents.
Rattanaporn said the impact from the current round of street demonstrations was "the worst" he had seen since he opened his shop 11 years ago. Thailand's capital has suffered repeated bouts of unrest and mass protests since a 2006 coup ousted Yingluck's brother, former Prime Minister Thaksin Shinawatra.
But Rattanaporn said this time, it would take a while for businesses to recover.
"Customers, especially the foreigners, are not returning yet at this point," he said. "It's going to take some time before it became lively around here again. Still, it feels good to see cars running outside and coming in to Siam Square."
Sri Somdee, 60, who sells school uniforms near MBK, a shopping mall that is popular among both Thais and foreign tourists, said she was "very relieved" protesters were gone.
"I know they are fighting for their cause but they were bringing businesses down with them," he said.
The Bangkok Mass Transit Authority, which operates the public city buses, announced it was resuming normal service on 21 bus routes after having lost 94 million baht ($2.88 million), or about 21 percent of regular revenue since January. Another 20 routes are still disrupted by dotted protest encampments across the city.
On Monday, an alliance of seven private sector organizations, including the Federation of Thai Industries, a major bankers' association and the Tourism Council of Thailand, said they were in favor of negotiations between the protesters and the government in order to end the conflict and the "severe" damage to the economy.
"Should the conflict be prolonged, it would definitely bring about the crisis of confidence among various foreign investors. It would further erode the country's competitiveness and its economic and trade opportunity in the region," the group said in a statement.