Buses resume taking remaining civilians, rebels from Aleppo
BEIRUT – A fragile cease-fire was back on in Syria on Monday, as buses resumed evacuating those still remaining in eastern Aleppo following days of delays, and others departed with the sick and wounded from two rebel-besieged Shiite villages in the country's north.
At the United Nations, the Security Council was expected to vote within hours on a resolution seeking to deploy U.N. monitors to Aleppo immediately in order to prevent what France has warned could be "mass atrocities" by Syrian forces and allied pro-government militias as they assume control of all of the rebel enclave.
The Britain-based Syrian Observatory for Human Rights and the pan-Arab Al-Mayadeen TV said that 10 buses left with civilians from the two Shiite villages long besieged by rebels — Foua and Kfarya — and were on their way to government-controlled areas on Monday.
According to the deal, more than 2,000 sick and wounded are supposed to leave the villages. The Observatory and the pan-Arab TV said 15 additional buses entered the two villages to bring out more people.
The evacuations from the villages were added on as conditions to a Turkey- and Russia-brokered cease-fire deal that paved way for the last rebels and civilians to leave the remainder of the rebel enclave in the eastern half of Aleppo.
The departure from the villages had stalled on Sunday after militants burned six empty buses assigned to take the villagers out.
The Observatory and Turkey's Foreign Minister Mevlut Cavusoglu later said that since midnight Sunday, some 4,500 people have been evacuated from eastern Aleppo.
Reports differed on how many people remain in what was once the Aleppo rebel enclave, ranging from 15,000 to 40,000 civilians, along with an estimated 6,000 fighters.
Turkey's state-run Anadolu Agency said a total of 131 wounded people — including 46 children — were brought to Turkey for treatment since the evacuations began last week. The agency said five of them have since died.
Al-Mayadeen aired live footage from Aleppo, showing buses it said were carrying opposition fighters and civilians heading west, toward rebel-held parts of the Aleppo province.
If the evacuation from Aleppo is completed later on Monday, it will close another chapter in Syria's civil war, now in its sixth year, with rebels having no remaining presence in Syria's largest city and the country's once commercial center.
The rebels captured eastern Aleppo in July 2012 and held on to it despite a ferocious assault in the past weeks by Syrian government forces, backed by Russia and a host of Shiite militias from Iraq, Lebanon, Iran and Afghanistan. The captured of the entire city would be President Bashar Assad's biggest victory since the Syrian conflict began in March 2011.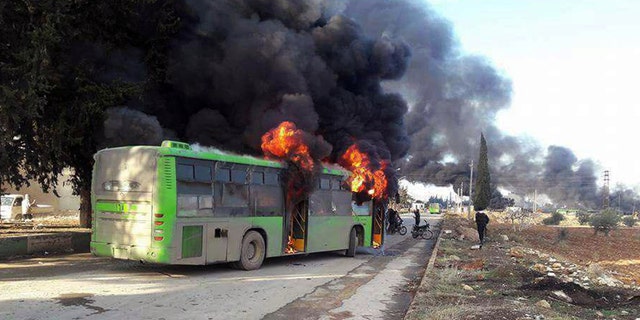 Observatory's chief Rami Abdurrahman said he expected Aleppo evacuations to be completed sometime on Monday.
He said the evacuations will happen in three phases.
First, 1,250 people from Foua and Kfarya will leave in return for the government allowing half of the people still in eastern Aleppo to head to rebel-held parts of the country.
Then, another 1,250 people will leave from the two Shiite villages, in exchange for the departure of all remaining civilians and opposition fighters in eastern Aleppo.
The third phase will include 1,500 people leaving from Foua and Kfarya and, in return, 1,500 people will be allowed to leave two besieged rebel-held towns, Madaya and Zabadani, near the Lebanon border.
At the United Nations, the compromise text of the resolution calls for the United Nations and other institutions to monitor the evacuations and demands that U.N. chief Ban Ki-moon urgently consult all parties on the immediate deployment of the monitors.
France and Russia, who submitted rival draft resolutions, struck a compromise text after more than three hours of closed-door consultations by the U.N. Security Council on Sunday.
The draft text also demands that all parties allow unconditional and immediate access for the U.N. and its partners to deliver humanitarian aid and medical care "and respect and protect all civilians across Aleppo and throughout Syria."
France's U.N. Ambassador Francois Delattre, who expressed hope that the resolution will be approved, said the goal is to avoid "a new Srebrenica," a reference to the massacre of nearly 8,000 Bosnian Muslims who sought protection in the U.N. safe haven of Srebrenica in 1995, during the Bosnian war.
U.S. Ambassador Samantha Power said "100 plus" U.N. personnel are ready to monitor evacuations once there is a green light. She said following the siege of eastern Aleppo, there have been "many, many reports of people being pulled off buses and disappeared, whether into conscription or into torture chambers or killed outright."
The U.N. doesn't know because it's not there, Power said, but if monitors are deployed it could deter "some of the worst excesses."