Bulgarian investigator: Suspect identified in attack on bus carrying Israeli tourists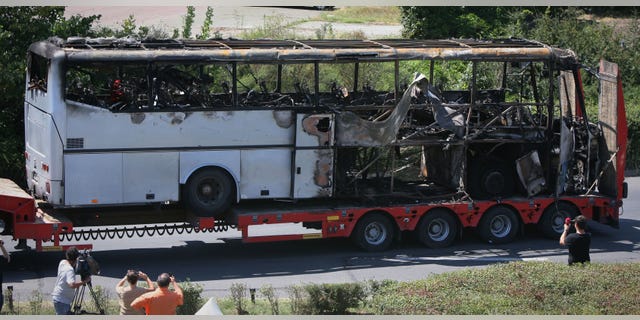 SOFIA, Bulgaria – Bulgarian authorities said Thursday they have identified one of three suspected terrorists involved in a bomb attack that killed five Israeli tourists and a Bulgarian bus driver last July.
The head of the investigation team told the 24 Chasa daily that the identified suspect was an accomplice of the one blown up in the attack at the airport of the Black Sea city of Burgas. Stanelia Karadzhova did not reveal his name or nationality, but added that all suspects were foreign nationals and there were no known local accomplices.
Karadzhova said an arrest warrant had been issued. "We know his country of origin, and that he has not lived there for the past six years," she said.
The investigator said that new evidence suggests the bombing was not a suicide attack as previously believed, because the bomber's moves ahead of the attack indicated that he did not intend to die.
Karadzhova explained that the bomber either pushed the button by mistake, or somebody triggered the explosion remotely. She added that investigators will re-enact the attack by blowing up a bus in search of more details.
Karadzhova also said that the suspected accomplices and the bomber were never seen together and that it remained unclear whether they used phones or laptops to communicate.
She said that the suspects were linked because they carried similar fake ID cards. Another common factor, she said, was their "identical way of life with just few needs, very ordered and simple, like in the army, which suggests they had the same type of training."
No arrests have been made in the case six months after the bombing. Israel claims Iran and the militant group Hezbollah played roles in the attack, but Bulgarian investigators have not announced any evidence of such a link.