Brussels train station attacker, who shouted 'Allahu akbar,' id'd as Moroccan national
NEWYou can now listen to Fox News articles!
The man who attempted to detonate a nail bomb at a Brussels train station and shouted "Allahu akbar" on Tuesday has been identified by Belgian authorities as a 36-year-old Moroccan national.
Eric Van der Sypt, Belgium's federal magistrate, said the suspect, Oussama Z., and often identified by his initials O.Z., was not known to investigators for being involved in terror activities but police were aware of him, the New York Times reported.
BRUSSELS TRAIN STATION EXPLOSION BEING TREATED AS TERROR ATTACK, SUSPECT DEAD, OFFICIALS SAY
The suspect charged soldiers at Brussels Central Station on Tuesday after his suitcase, containing nails and gas canisters, failed to fully explode, Van der Sypt said.
The alleged attacker then shouted "Allahu akbar," Arabic for "God is great," before soldiers shot him dead, the magistrate said. Nobody else was injured in the incident which is being treated as a terror attack.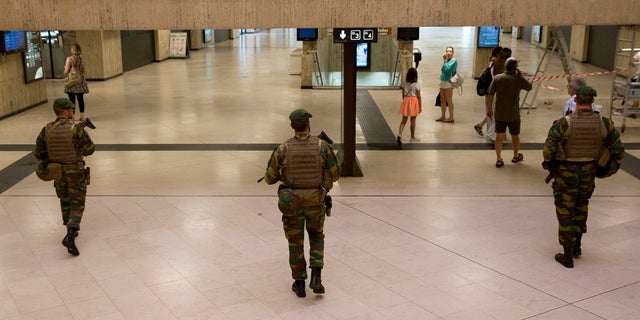 "It was clear he wanted to cause much more damage than what happened," Van der Sypt said. "The bag exploded twice but it could have been a lot worse."
Officials said O.Z. likely made the bomb in his residence in Molenbeek, an area known as a hotbed of Islamism. There were also indications O.Z. had "sympathies for" ISIS, according to a press release by the federal prosecutor's office, but authorities didn't specify how they knew that or if O.Z. pledged allegiance to the terror group.
Belgian Interior Minister Jan Jambon suggested to state media that a second, larger device at the scene did not go off.
"The big blast did not happen," Jambon said. He did not elaborate on further details.
It is not clear if the suspect had ties to any extremist groups of the Islamic State.
Belgium has been on high alert since suicide bombers killed 32 people at the Brussels airport and a subway station on March 22, 2016. The country increased security measures around the country following Tuesday's incident.
HISTORIC BREXIT DIVORCE NEGOTIATIONS BEGIN IN BRUSSELS
Security remained high around rail facilities and preparations were underway to beef up security for a Coldplay concert at the 50,000-seat King Baudouin Stadium later Wednesday.
"In three years we have been confronted with several attacks or attempts and we say the zero risk does not exist," Prime Minister Charles Michel said after a specially-convened security meeting.
The station reopened on Wednesday and a mobile police command unit and several officers were still at the station, according to The Associated Press.
Belgium's Crisis Center said Wednesday that it sees no need to raise the national security alert level, which has been on its second-highest rung for more than a year. It said that no public events would be canceled but that additional police and troops have been mobilized.
The Associated Press contributed to this report.