Brother of French terror suspect reportedly proud of his actions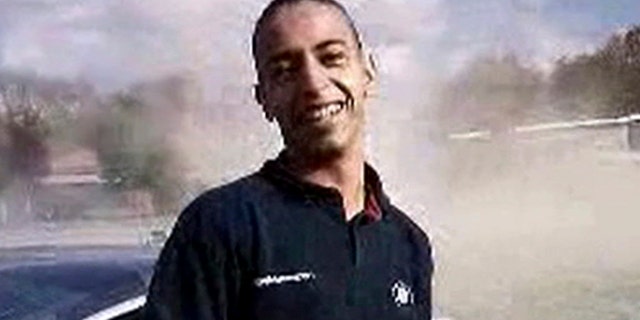 The older brother of the Islamist fanatic blamed for the execution-style murders of seven people, including children, told police that he was "proud" of his brother's actions, the AFP reported.
Abdelkader Merah, the brother of terror suspect Mohamed Merah, said he was unaware of his brother's intentions, but saw his brother take the scooter used in the shooting, the report said.
Authorities are investigating the shooting rampage and released Mohamed Merah's mother but were questioning his older brother to determine whether he served as an accomplice, officials said Saturday.
Police are trying to determine whether Mohamed Merah, 23, had any help in carrying out the killings that have shocked France and refocused attention on the threat of radical Muslim terrorists. Police say there is evidence to suggest that his brother worked as an assistant.
Mohamed Merah's brother, Abdelkader, was flown to Paris for further questioning Saturday, along with his girlfriend, but a lawyer for his mother, 55-year-old Zoulhika Aziri, said she had been released without charge.
Jean-Yves Gougnaud told reporters in the southern French city of Toulouse that Aziri's world had been "turned upside down."
"She is devastated," he told reporters after her release. "At no time could she have imagined that her son was the one who did it."
Aziri was freed late Friday from a police station in Toulouse, a judicial official said on condition of anonymity because the information wasn't cleared for public release.
Mohamed Merah, who claimed allegiance to Al Qaeda, died in a hail of gunfire Thursday after a dramatic 32-hour standoff with police at his apartment in Toulouse. At one point, police brought his mother to the scene, but she refused to urge her son to surrender, officials said.
He had filmed himself carrying out attacks in southern France that began March 11 and killed three Jewish schoolchildren, a rabbi and three French paratroopers with close-range shots to the head, prosecutors say. Another Jewish student and a paratrooper were wounded, and five police officers were injured trying to dislodge him from the apartment.
The killings stunned France and upended the campaign for presidential elections starting next month. President Nicolas Sarkozy held an emergency meeting with his prime minister and top security and intelligence officials Saturday.
Key questions include how Mohamed Merah, described by French intelligence boss Ange Mancini as "a little failure from the suburbs," was able to amass an arsenal of weapons -- including an Uzi sub-machinegun -- and rent a car, despite having no clear source of income.
Mancini told French broadcaster BFM-TV that Mohamed Merah told police during the siege that he bought the weapons for about $26,000, using money he acquired through break-ins and holdups.
Mancini said he believed that he was telling the truth about that, but suggested that forensic police would be examining the guns for clues as to where he got them.
"The weapons, too, will talk," Mancini said.
Mohamed Merah had claimed that neither his mother nor his brother knew of his plans. But police union spokesman Christophe Crepin told reporters that detectives have already gathered evidence to suggest that Abdelkader may have helped his brother carry out the shootings.
Asked what police had on the brother, Crepin said there was evidence to suggest that Abdelkader Merah had "furnished means (and) worked as an accomplice."
Crepin refused to comment further, saying it was for a judge to decide what charges, if any, to bring. Under French law if either of the two continue to be held beyond the weekend, preliminary charges will have to be filed.
Abdelkader Merah had already come under police radar, according to officials. He was questioned several years ago about alleged links to a network sending Toulouse-area youths to Iraq, but no action was brought against him at the time.
Back in the southern French city of Toulouse, where Mohamed Merah held out in an apartment building for more than a day against one of France's most elite police units, residents were beginning to return home to inspect the damage.
Video footage shot by police of the inside of Mohamed Merah's apartment showed a shattered three-room residence strewn with debris from the fighting and gaping bullet holes in the walls.
Building resident Farida Bohama was quoted by France's Le Figaro newspaper as saying nothing would ever be the same.
"I really want to move," she said.
The Associated Press contributed to this report.