Bronx-Born Justice Sotomayor Tells Hometown Kids They're 'Special'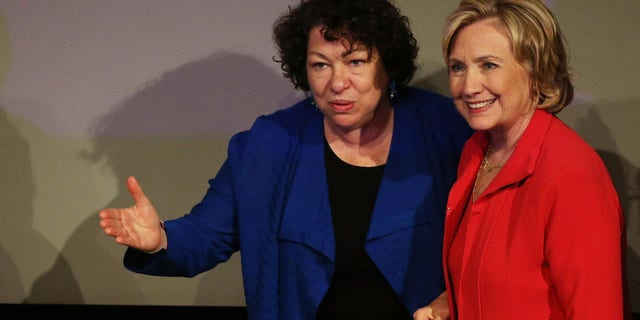 Former Secretary of State Hillary Clinton joined Supreme Court Justice Sonia Sotomayor at a ceremony at the Bronx Children's Museum on Friday in New York City where the message to kids was simple – dream big.
For Justice Sotomayor it was a chance to directly speak to kids from her hometown borough.
"They help you because they think you're special," Sotomayor said of the leaders present at the ceremony.
Justice Sotomayor praised many of the community and program leaders who attended the "Dream Big Day," including Secretary of Housing and Urban Development Julian Castro, Bronx Borough President Ruben Dias Jr. and Speaker Melissa Mark-Viverito.
"Every one of us had to dream big, or we wouldn't be where we are today," Clinton said, according to the New York Observer. She also told the kids to keep dreaming "because we need you" while calling Sotomayor "one of our heroes."
Castro and Clinton have been rumored as possible running mates on a potential Clinton presidential campaign ticket in 2016. Castro, the former mayor of San Antonio, was confirmed as housing secretary a couple of weeks ago in a move some eye as a chance to raise his national political profile before the elections two years from now.
The Dream Big program, started in 2010, is a four to six week summer arts enrichment program for children from first to third grade. The goal is to "inspire children to dream big, work hard, follow their passions and to become caretakers of the world," according to the program's website.
At one point, Sotomayor instructed the children to go hug Clinton, and they did.
"Go hug these famous people and tell them, 'Thank you,'" the Supreme Court justice said, according to the Observer.
The event also honored Sonia Manzano, who plays Maria on Sesame Street, a show on Sotomayor has appeared. The justice called Manzano one of her heroes for being a Latina trailblazer on television.
Sotomayor, the first Hispanic on the U.S. Supreme Court, grew up poor in New York City and worked her way to Princeton and Yale Law School, and eventually to the nation's highest court.
Follow us on twitter.com/foxnewslatino
Like us at facebook.com/foxnewslatino