Broad defiant over walking row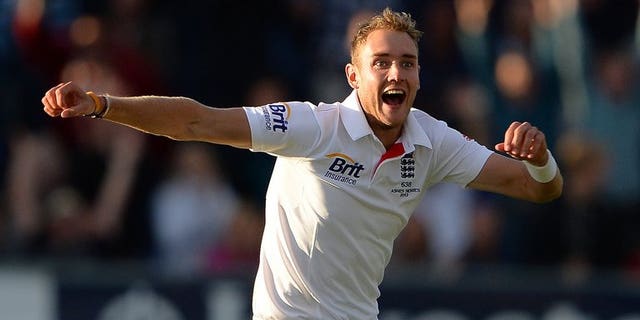 LONDON (AFP) – England all-rounder Stuart Broad has insisted he's nothing to apologise for after refusing to walk in the opening Ashes Test against Australia at Trent Bridge.
Broad, on his Nottinghamshire home ground, remained at the crease when, on 37 in the second innings, he edged a ball from teenage spinner Ashton Agar to slip via the gloves of Australia wicketkeeper Brad Haddin.
Experienced umpire Aleem Dar ruled not out and Broad went on to make 65 in a match England won by just 14 runs to send them on their way to a successful Ashes defence -- they are 3-0 up with one to play heading into this week's finale at The Oval.
Such was the seemingly obvious nature of the edge that Broad's refusal to walk was widely criticised, although not by his opponents given the established tradition in Australian cricket of waiting for an umpire's decision.
However, Broad insisted the incident was not as clear-cut as it was portrayed in many quarters.
"It was an odd one. There was no particular noise because of the noise of Haddin's gloves," Broad, a Test cricket ambassador for Investec (Investec.co.uk/cricket or @investeccricket), the specialist bank and asset manager that is a title sponsor for the Ashes, told reporters on Monday.
"It's a bit silly when people say it was nicked to slip because actually it was edged to the keeper's gloves and flew off the gloves to slip.
"I went down to the other end and Ian Bell was like 'what happened there, I didn't hear anything?' Agar came up to me and asked if I'd nicked it because he wasn't sure.
"So it wasn't as clear-cut as everyone had thought, although I knew I'd hit it," added the 27-year-old son of former England batsman Chris Broad.
"Walking's an interesting one. You have a split second and sometimes when you edge it you walk out of pure frustration. You kick yourself and walk away.
"For players on the field not to have known if I nicked it proves there was confusion there."