Broad all fired up for Ashes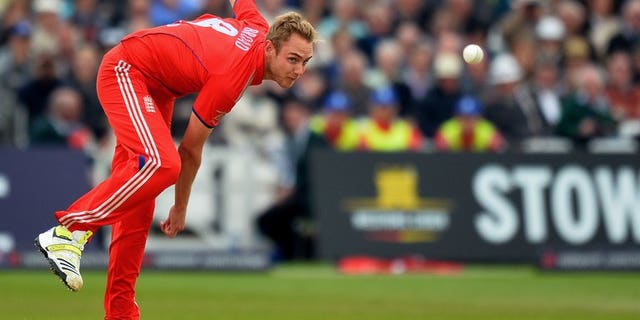 LONDON (AFP) – England seamer Stuart Broad tried to allay fears about his fitness on Thursday ahead of next week's Ashes opener against Australia saying "if the Test started today I'd be ready to go".
Broad hasn't bowled competitively since injuring his right shoulder diving to regain his ground while batting during England's Champions Trophy final defeat by India at Edgbaston on June 23.
However, the 27-year-old had a cortisone injection Monday and had some bowling practice during the tea interval on Wednesday's final day of England's warm-up match against Essex at Chelmsford.
Broad, the son of former England batsman Chris, played a key role in England regaining the Ashes in 2009 with an innings haul of five wickets for 37 runs in the hosts' series-clinching win at The Oval before an abdominal muscle injury ruled him out of the last three Tests of the team's triumphant 2010/11 Ashes campaign in Australia.
But Broad, speaking to reporters in London on Thursday, insisted he was now fully fit and available for the start of England's Ashes defence, which will begin at Trent Bridge -- his Nottinghamshire home ground -- on July 10.
"It's really good actually," Broad, speaking at a media event organised by Ashes sponsors Investec, said.
"In the Champions Trophy final, I dived to make my ground and as a tall, gangly bloke I landed awkwardly and jarred my shoulder a little bit.
"If it was anything but my right shoulder, it wouldn't have been much of an issue. There was just a bit of catching in the socket when my arm rotated which wasn't healing as quickly as it could have done.
"We just put a cortisone in it on Monday to get rid of the extra fluid I suppose and it seems to have settled. I batted and bowled yesterday (Wednesday) and I am 100 percent fit.
"If the Test started today (Thursday), I'd be ready to go. I didn't bowl flat out yesterday (Wednesday), that will be for tomorrow (Friday)."
Broad's words backed up comments made by England coach Andy Flower who, speaking after England's 228 run-win over Essex, said Wednesday he was "pleasantly surprised" by the paceman's first bowling attempt since his injury.
"We anticipate him (Broad) being fit. He could not have played this game, but he should be OK (for the first Test)."
Broad's confidence in his own fitness was a further boost to England after premier off-spinner Graeme Swann was cleared of a fractured arm
Swann was hit on his right, bowling, arm while batting on Monday on the second day of the four-day match against Essex.
It was the same arm which required an elbow operation earlier this year. But Swann calmed fears about his fitness with a return of five for 68 on Wednesday.
England find themselves in the unusual position of starting an Ashes series as firm favourites against an Australia side who are adjusting to life under new coach Darren Lehmann after South African Mickey Arthur was dramatically sacked just 16 days before the first Test.
"We don't fear them, but we respect the Australia side," Broad said. "We know certainly in football terms a change of coach brings an improved performance, we are not sure about the cricket world.
"Once you step on the field its man versus man and it's the better skills that tend to win games."