British PM Cameron: Syria attack would be legal, justified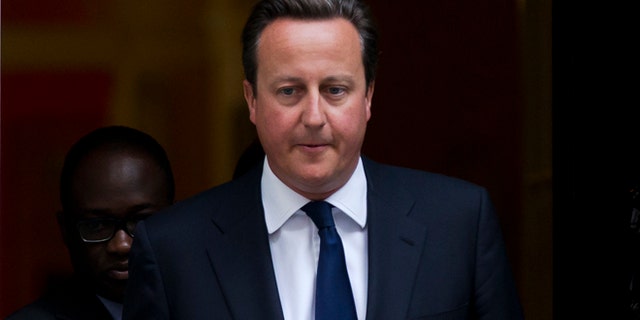 NEWYou can now listen to Fox News articles!
Prime Minister David Cameron's office said Thursday it would be legal under humanitarian doctrine to launch a military strike against Syria even without authorization from the United Nations Security Council.
The office added that the legal conditions have been met for taking action against Syria for launching a chemical attack against civilians in a Damascus suburb last week. The British leader has been at the forefront of calls for action, but his push is expected to be slowed by objections from the opposition Labor Party and a standoff at the U.N.
Cameron's office released intelligence and legal documents meant to bolster the case that chemical weapons were used by the Syrian government and that retaliation would be justified. The documents were made public in advance of a debate in the British Parliament.
The Labor Party will oppose the resolution in Parliament, according to a party official who spoke on condition of anonymity ahead of Labor leader Ed Miliband's announcement.
In addition to a legal summary, Downing Street released the Joint Intelligence Committee assessment that concludes it was "highly likely" that the Syrian government was responsible for the chemical weapons attack on Aug. 21 that killed hundreds of civilians.
Jon Day, chairman of the Joint Intelligence Committee, says in the report that assessments indicate the Syrian government had already used chemical weapons on a smaller scale since fighting escalated in 2012.
"A clear pattern of regime use has therefore been established," he said.
Cameron's office said: "The judgment of the Joint Intelligence Committee is that a chemical weapons attack did occur in Damascus last week; that it is highly likely that the Syrian regime was responsible; that there is some intelligence to suggest regime culpability; and that no opposition group has the capability to conduct a chemical weapons attack on this scale," said a summary released by Cameron's office.
Syrian officials have denied responsibility for the chemical assault.
The British legal report indicates the basis of Cameron's assertion that military action against Syria would be permissible under international law even if it is not specifically authorized by the U.N. Security Council.
Britain has proposed a resolution to authorize the use of military force, but Russia and China remain firmly opposed and there is no indication of whether it will ever be put to a Security Council vote. British officials did not expect the resolution to be endorsed given the staunch opposition.
"The government's position on the legality of any action makes clear that if action in the U.N. Security Council is blocked, the U.K. would still be permitted, under the doctrine of humanitarian intervention, to take exceptional measures, including targeted military intervention in order to alleviate the overwhelming humanitarian suffering in Syria," the summary states.
It says the three necessary requirements for "humanitarian intervention" have all been met: There is convincing evidence of extreme, large scale humanitarian distress; there is no practical alternative to the use of force if lives are to be saved; and the use of force must be proportionate and aimed at relieving a human crisis.
The report says the Syrian regime has been killing its civilians for two years -- with reported deaths passing 100,000 -- and can be expected to use chemical weapons repeatedly unless action is taken.
This position that a strike would be legal has been rejected by some legislators who say they can only back the use of force if the Security Council has approved it.
The intelligence committee said there was no credible intelligence to suggest the attack was faked by opposition forces and that no rebel group had the capability for such a large-scale chemical attack.
Syrian officials Thursday took the unusual step of writing to British legislators denying any role in the attack. In a letter to his counterpart in London, Jihad Allaham, speaker of the Syrian People's Assembly, invited British legislators to come to Syria to investigate the attack.
He implored British legislators to oppose the use of force in Thursday's vote: "We ask you to stop the rush to reckless action," he said, asserting that a military strike would breach international law.
Cameron has already bowed to Labor Party demands that Parliament be required to vote a second time before any military strike against Syria would be launched.
Labor leader Miliband insists that any military actions must be delayed until after the report of a United Nations inspection team is heard. The inspectors plan to leave Syria Saturday after collecting evidence about the alleged chemical attack.
"We have got to learn the lessons of Iraq because people remember the mistakes that were made in Iraq and I am not willing to make those mistakes again," Miliband said, according to Reuters.
Conservative officials are reportedly furious at the delay, accusing Miliband of opportunism.
"Ed Miliband is playing politics when he should be thinking about the national interest and global security," a Conservative source told Reuters. "He keeps changing his position, not out of principle, but to achieve political advantage," the source added, saying Cameron wanted to "do the right thing" in the right way.
According to Reuters, Britain is to send six RAF Typhoon air-to-air interceptor jets to its Akrotiri base in Cyprus on Thursday, the Ministry of Defense said. Cyprus is just 62 miles from the Syrian coast. Britain also has warships in the Mediterranean.
The Associated Press contributed to this report.