British model Chloe Ayling suffered physical violence, 'brutally transported in luggage,' police testify
NEWYou can now listen to Fox News articles!
A British model, said to have been kidnapped last summer in Milan, Italy, suffered physical violence, including being drugged, handcuffed and "brutally transported in luggage," investigators testified Wednesday.
The remarks were part of opening testimony in the trial of Lukasz Pawel Herba, a 30-year-old Pole arrested in July on charges of kidnapping model Chloe Ayling for ransom, Italian news agency ANSA reported.
Herba was arrested after he released the 20-year-old model at the British Consulate in Milan after allegedly having a change of heart.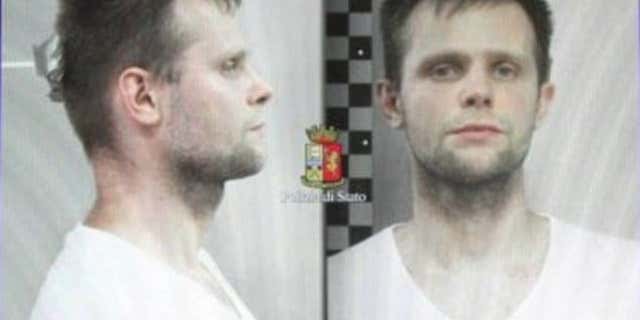 Police said Ayling was kidnapped and threatened with being auctioned off on the dark web, and was put under "psychological pressures" during her ordeal.
Authorities are also seeking the extradition of Herba's brother, Michal, who was arrested in Britain.
George Hepburne Scott, the lawyer for Herba, has argued that the case might have been made up as part of an elaborate publicity stunt to boost Ayling's career."There is a real risk that the entire case is a sham," he said in September.
MODEL CHLOE AYLING POSTS NUDE PHOTO JUST MONTHS AFTER 'BLACK DEATH' KIDNAPPING
But prosecutors tell a different story, insisting that Ayling was lured to Milan with the promise of a modeling job and was kidnapped when she showed up for a supposed photo shoot. She was held for six days at a farm near Turin.
Ayling has told investigators the kidnappers planned to auction her off to the highest bidder -- unless she paid $355,000 for her freedom.
The model has maintained that her kidnapping was real, saying on Britain's "This Morning" in August that she feared she would be killed and prayed for a "nonpainful death."
CHLOE AYLING RELIVES TERROR OF BEING KIDNAPPED DURING FIRST TV APPEARANCE SINCE INCIDENT
"It is really hurtful to see people doubt my story. Like when I went shoe shopping apparently, which was to the camping shop to get shoes for the consulate, people were saying why didn't I run?"
Ayling has also announced she will be writing a book to "expose every little detail for the first time." The book, to be titled "Six Days," is expected to be released in the spring.
The Associated Press contributed to this report.