British exit risk casts shadow over EU's economic hopes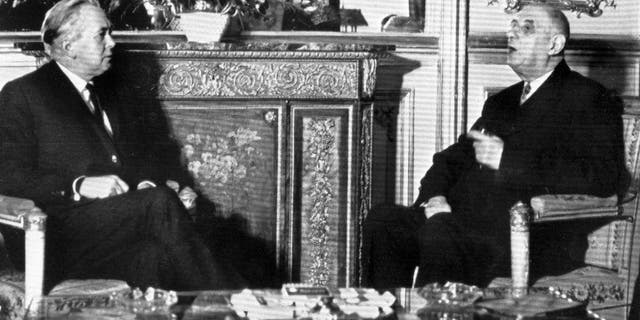 NEWYou can now listen to Fox News articles!
LONDON – Half a century ago, French President Charles de Gaulle twice vetoed Britain from joining what was then the European Economic Community, warning that the country's "fundamental hostility" to economic integration could sabotage the bloc.
In half a dozen weeks, the British could be fulfilling that prediction when they vote on whether to leave the European Union, a move that would be the biggest reverse in the bloc's near 60-year existence and a threat to its economy.
A vote for a British exit from the EU — so-called Brexit — on June 23 would likely trigger turmoil in financial markets and uncertainty for businesses, jolting the region's economy.
The real damage may take longer to emerge. The fear in continental Europe is that the U.K.'s departure could prompt other countries to seek changes to their EU membership. In a worst-case scenario, it could usher in a new era of nationalism that diminishes the drive to strengthen economic ties and undermines the EU's core purposes: the freedom to trade and move between countries.
"It could be another torpedo in the ship of the EU," said Jan Bryson, global economist at Wells Fargo Bank. "Brexit could set a precedent and it could raise questions about the future of the EU itself."
As far ago as 1963 De Gaulle warned the other five founding members of the bloc that Britain's culture was too different from those of the continent to be interested in long-term integration. He had first-hand knowledge of Britain having spent most of World War II in London organizing the French resistance.
"Non," he said in 1963, and again four years later, to Britain's attempt to join. The country eventually joined in 1973, but only after de Gaulle resigned in 1969.
The immediate aftermath of a British vote to leave the EU would likely see huge volatility in financial markets, stoking uncertainty that discourages businesses from investing or hiring — both in Britain and the rest of Europe. Surveys of companies have already shown some executives, mainly in Britain but also the eurozone, becoming more cautious in the run-up to the vote.
That uncertainty could last a while. It would take at least two years for Britain to leave the EU. Renegotiating its commercial relationship with the bloc will likely take many years more.
Many forecasters predict the British pound would fall sharply in the days after a Brexit vote. Fears over a British exit from the EU have already seen the pound drop this year to multi-year lows, particularly against the dollar. Though a weaker pound may help Britain's exporters, it would hurt European firms exporting to Britain.
The Organization for Economic Cooperation and Development estimates that a Brexit vote will shave around 1 percentage point off the EU economy by 2020. That's a lot for an economy that's barely grown over the last few years and in 2015 expanded by only 1.9 percent.
The International Monetary Fund considers Brexit to be one of the main risks facing not just Europe, but the global economy, as it would disrupt trading relationships.
Britain exported around 223 billion pounds ($325 billion) worth of goods and services to the other 27 EU countries last year, and imported around 291 billion. British exports to the EU account for about 45 percent of the total, while imports are a little bit more than 50 percent.
There are certain economies within the EU that would be hurt more than others. Neighboring Ireland, above all, but also Belgium, the Netherlands and Germany have strong commercial ties with Britain.
The longer-term damage, which is hard to quantify, could come from the damage a British departure causes to Europe's integration drive.
For years, EU states have sought to get closer. They created the single market, which effectively abolished borders between member states, and created the euro currency, now used by 19 EU countries. But the global financial crisis of 2008 — which morphed into a debt crisis for the eurozone — and the EU's trouble handling the migrants' crisis have emboldened a wave of populist political forces across Europe.
In eastern Europe, countries like Hungary and Poland have become more skeptical of the EU. In France, the hard-right Front National has gained ground while in Germany, the anti-immigration Alternative for Germany (AfD) is more popular than ever.
There's concern that a vote for Brexit could generate more support for such parties, many of which want to leave the EU outright. Already, the migrants' crisis has prompted a watering-down of the Schengen Agreement, which has allowed more than 400 million Europeans to travel hassle-free between 26 European countries — though not Britain — for business or travel.
Any political fallout from a Brexit could really start playing out in 2017, when there are elections in France and Germany, among others.
Colin Ellis, a managing director at ratings agency Moody's, said a Brexit could "fan the flames of political disquiet elsewhere."
Ellis also thinks the EU would lose momentum in other ways as Britain is one of the most dynamic and open economies in Europe and its continued membership would help promote policies that would improve the bloc's economy, such as reforming labor markets. Britain, he said, can be a "positive example" to other countries in the EU.
In the EU's favor, Ellis said, some business activity could potentially relocate from Britain to Ireland or other EU countries. Financial services firms in particular could be interested in doing so, as they would need to have operations in an EU country to get the "passport" that allows them to work in any of the bloc's countries. Ellis warned, however that any such gains would be "small and gradual."
Some say, that given the size of the trade relationship, the EU would likely try to secure a trade deal with Britain swiftly. Others think the EU would look to punish Britain — whatever the economic cost — in order to discourage other states from going down the same route.
"In short, the only certain outcome of Brexit for the EU-27 would be uncertainty," said Wells Fargo's Bryson.