Britain's Cameron isolated fighting his corner in search for new EU leader, push for reforms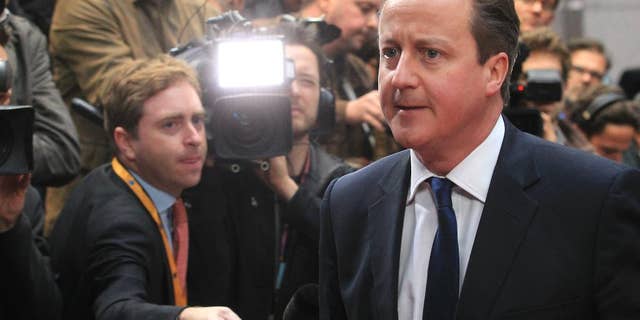 BRUSSELS – Many political battles are ugly — but toss in 28 nations, high unemployment, angry voters and a skeptical Britain and the fight over who will be the European Union's next chief executive may have profound consequences.
Britain's Prime Minister David Cameron has set himself up for a stinging defeat as his vocal campaign to block the front-runner for the top EU job, former Luxembourg prime minister and longtime Brussels insider Jean-Claude Juncker, fails to gain traction.
Many fear that an increasingly isolated Britain could even choose to leave the bloc embracing 500 million people — something that has never happened in the EU's history.
At their summit Friday, the bloc's leaders are set to nominate Juncker as the next president of the European Commission, the EU's powerful executive arm, which is in charge of drafting legislation, overseeing countries' budgets and policing the EU's single market.
Cameron views the EU "too big, too bossy and too interfering" and sought to block Juncker, whom he sees as the embodiment of a pro-integration, consensus-favoring, empire-building Brussels clique that won't hand back power to member nations.
Cameron says the strong results last month for euroskeptic and anti-immigration parties in European Parliament elections in several EU countries, including France and Britain, were a wake-up call that the bloc "must either change or accept further decline."
However, his anti-Juncker campaign has backfired, raising pressure on a leader who already has pledged to hold a referendum on whether Britain should stay in the EU and who faces strong competition from a rising anti-EU party.
"Cameron has maneuvered himself into a corner," said Fabian Zuleeg, head of the European Policy Centre, a Brussels-based think-tank. "His strategy hasn't worked and it has added to the process of alienation between the United Kingdom and the rest of the European Union."
A key figure in the battle has been German Chancellor Angela Merkel. Following the European elections, in which the 59-year-old Juncker was the top candidate for the center-right bloc that finished first, Merkel initially said the EU's agenda could be implemented "by him but also by many others."
That perceived lack of commitment to her fellow conservative, however, prompted a barrage of criticism at home — so Merkel then threw her weight firmly behind Juncker. Europe's center-left leaders, led by French President Francois Hollande, followed suit last week, hoping to get other top EU jobs in return.
"The message to British politicians is that EU member states ... would rather risk pushing Britain out of the EU than cause some temporary problems for Merkel," said Simon Tilford of the Center for European Reform, a British think tank. "It has given a brutal demonstration of where power lies in Europe."
Britain had been hoping for support from Germany, the EU's most populous and economically powerful member, to block Juncker. Merkel has spoken out passionately for Britain staying in the EU — Britain has been a useful German ally in promoting trade and budget discipline — but isn't budging on Juncker.
No EU commission chief has so far been appointed against the expressed will of a major member state. Cameron is demanding a formal vote Friday on Juncker to document his opposition — although the only other leader who has hinted at joining him is Hungary's Viktor Orban.
Merkel on Wednesday shrugged off the prospect of not reaching unanimity, saying it "would not be a drama." She has also tried to soothe Britain by vaguely hinting that London's quest for EU reforms would be taken into account.
"It isn't the case that Germany can just impose decisions, but it's difficult to get a solution that Germany can't accept," said Zuleeg. "It's an implicit veto."
To hand Britain an olive branch, leaders might grant London an important portfolio in the Commission, such as trade. Still, analysts say Cameron's assertive public campaign against Juncker means Britain could get short-changed.
"Had he played it with more flexibility, he could have achieved a lot more for concessions for Britain," said Jan Techau, the director of the Brussels-based think tank Carnegie Europe. "But there was a point of no return when he staked his entire credibility on preventing Juncker."
Doubts are even being voiced within Cameron's government.
"He was right to take the position he did, but the way it's been done, unfortunately, has not helped Britain punch its weight in Europe," British Business Secretary Vince Cable told BBC radio.
Cameron is haunted both by increasingly euroskeptic lawmakers of his Conservative party and the rising UK Independence Party, which advocates leaving the EU. He has vowed to renegotiate his country's relationship with the EU, seeking to diminish the power of bureaucrats in Brussels, before holding a referendum on Britain's EU membership in 2017, provided he wins re-election next year.
Since its creation after World War II, no country has left what is now the European Union. What started off as essentially a small free-trade bloc has become more politically integrated and grown to currently 28 members. Recent years, however, have been overshadowed by an economic crisis that dented growth and pushed unemployment to about 12 percent.
Analysts warn that if Britain's relations with the EU further sours, it might sleepwalk to the exit, finding itself shut out of the world's biggest free trade area and its main export market. To avoid that, Cameron will need help from those he's currently fighting.
"This will be a major issue overshadowing the new Commission: Can the EU deliver something to Cameron that will make it easier for him to make the case for being in the EU?" Techau said. "It's hard to say how much the rest of Europe will be ready to give."
___
Moulson reported from Berlin. Danica Kirka in London contributed reporting.
___
Follow Juergen Baetz on Twitter at http://www.twitter.com/jbaetz