Brazil's chief justice: 'unacceptable' to attack judiciary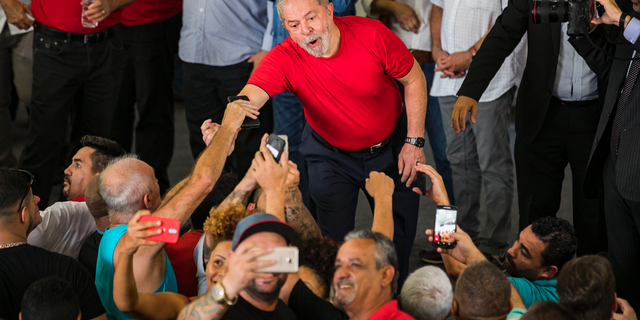 SAO PAULO – Brazil's chief justice complained Thursday about increasing criticism of the country's judiciary at a time when the conviction of former President Luiz Inacio Lula da Silva has led some to accuse the courts of being politicized.
Carmen Lucia's comments show the Supreme Court is feeling pressure to deal with da Silva's case and hint that it is concerned that any decision it makes won't be respected. Da Silva's supporters have called his conviction by a lower court a "farce" and a miscarriage of justice.
Lucia said that it was fine to disagree with judicial decisions and even seek to change them through legal channels.
"What is inadmissible and unacceptable is to disrespect the justice system, to denigrate it, to attack it," she said, in unusually blunt comments as she opened a new session of the court.
Lucia did not cite a specific case, but she appeared to be referring to the allegations that da Silva has been treated unfairly. Da Silva was convicted of corruption in July on charges stemming from Brazil's massive Car Wash corruption probe, and an appeals court upheld the conviction last week.
That ruling that could make da Silva — who has a clear lead in recent presidential preference polls — ineligible to run in elections later this year, and many believe it will fall to the Supreme Court to make the final decision on his candidacy.
His Workers' Party has set up a showdown with the judiciary, vowing that he will be its candidate no matter the final decision. And his case reflects the growing polarization of Brazil's population and that faith in the courts is eroding in a country where elected politicians are widely distrusted.
In a poll published Thursday, 53 percent of respondents said da Silva should be jailed, while 44 percent said he shouldn't. The Datafolha poll conducted earlier this week and had a margin of error of 2 percentage points.
The Supreme Court has ruled that defendants should start serving their sentences once they've lost their first appeal, and Lucia said recently the court would not review that decision. That means da Silva could jailed as soon as the court has explained the details of the ruling to the defense — the final step in issuing the decision under Brazilian law.
Many Brazilians initially cheered Car Wash, which has uncovered unprecedented corruption among the country's political and business elite. But more recently, many, especially on the left, have soured on the investigation, accusing judges and prosecutors of overreaching and using the investigation to decimate the Workers' Party. The police, prosecutors and judges leading the investigation have said they are merely following the evidence where it leads and note that the scheme began while the Workers' Party was in power.
Da Silva's conviction has added fuel to that criticism. Many have pointed to the unusual speed with which his case moved through a normally plodding justice system as evidence that da Silva was being treated unfairly.