Brazilian teen speaks out about her brutal gang rape by 30 men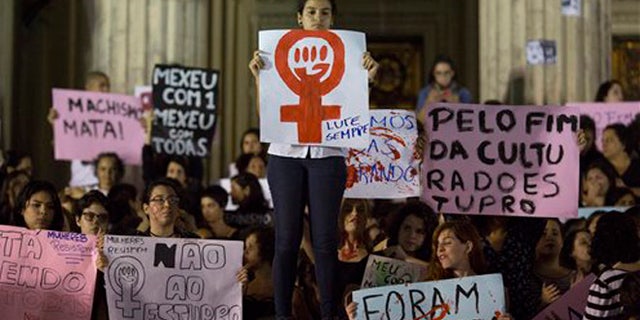 Brazilians have been shaken to the core over the recent gang rape of a 16-year-old girl by at least 30 men in Rio de Janeiro. Even more horrifying, the alleged attackers took photos and videos, adding commentary and sharing on social media.
The victim has said that on May 21 she went to visit her boyfriend in a favela, or slum, and wound up the next day in a different house, naked and surrounded by three dozen armed men.
She told Al Jazeera that when she awoke, she was drugged and groggy. "There were lots of people with guns – lots of young guys laughing and talking," she says.
The photos and videos of the naked and unconscious teen went viral, incensing a country desensitized by a huge rate of violent crimes committed against women. Rights groups say there are at least 500,000 sexual assaults that take place in Brazil annually.
According to the Washington Post, more than 100,000 people shared the photos on Facebook of the man they believe circulated the photos. Just as many people expressed outrage as made comments suggesting that the victim was at fault, should never have been in the neighborhood and that she was a willing participant in her rape. Some people even threatened her life.
"It not only hurt me, it hurt my soul, because people judged me, tried to blame me for something which was not my fault. They robbed me, not just in material goods, but in a physical way," she told Al Jazeera.
The investigation has been taken over by a female police officer. Reportedly the teenager ended her initial police interview when the male officer in charge asked whether she was in the habit of having group sex.
"She needs protection," said Cristina Bento, police chief for crimes against minors. "She needs care. A rape crime did happen. Now what I'm trying to find out is the extent of this rape – how many people were involved.
"I want to collect all the evidence and present it to the prosecutors' office, so they can present a robust case and all involved can be condemned for the crime they committed."
In 2014 the country registered 60,000 homicides. Brazil is currently suffering one of its worst economic crisis since the 1930s, and Rio is hosting the Summer Olympics in August.
This year the state of Rio de Janeiro has cut almost $550 million from its security budget – about 20 percent of the total last year – with that money being earmarked for Olympic venues.
Nine days after the rape, two of the men were arrested in connection with the crime.
They were identified as Rai de Souza, 22, and Lucas Persomo Duarte Santos, 20.
Even though police say they have no doubt the assault took place, the physical tests done on the victim were taken five days after the rape, well beyond the recommended 72-hour window.
"We did not collect evidence of violence, but this does not mean that there was no violence," said Rio police chief Fernando Veloso to the Associated Press. He added that authorities did not learn of the incident until the social media posts appeared several days later. "Traces were lost because of time."
The Associated Press contributed to this report.
Like us on Facebook
Follow us on Twitter & Instagram