Brazil looks to buy Chinook helicopters from Boeing as tensions with U.S. thaw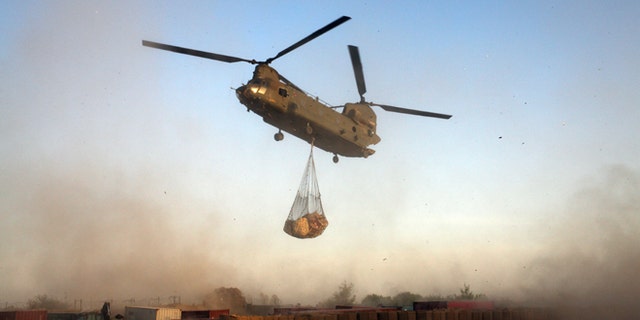 NEWYou can now listen to Fox News articles!
In a sign that the icy relations between Brazil and the United States in the wake of the National Security Agency spying scandal are beginning to thaw, the South American nation has expressed an interest in buying a handful of military helicopters from Boeing, the Chicago-based company said.
The Brazilian Army is looking to purchase several CH-47 Chinook helicopters from Boeing in a deal that would add to an already growing list of potential weapons deals between the U.S. and Brazil. Boeing executives said that they were "pretty positive" about the deal and that the company views Brazil as an important partner for both commercial and defense projects.
"We have had some early discussions about the Chinook with the Brazilian Army," Boeing spokesman Scott Day told Reuters, adding that the proposed deal was not a very big one. "We still view Brazil as a very important country for Boeing."
The Brazilian Embassy in Washington D.C. could not confirm to Fox News Latino that the country is looking to buy the helicopters from Boeing.
Boeing lost out earlier this year in a $4 billion bid to sell its F-18 fighter jets to Brazil who was looking to revamp its aging fleet of planes. Brazilian aircraft maker Embraer will instead partner with Sweden's Saab in the development and manufacturing of 36 Gripen NG fighter jets for Brazil's air force for around $4.5 billion.
The scrapping of the earlier deal with Boeing was seen as a move on the part of Brasilia to distance itself from Washington following the revelations in documents leaked by NSA contractor Edward Snowden that the U.S. had spied on Brazilian President Dilma Rousseff and other world leaders – despite denials to Fox News Latino last year from both governments that this was not the case. The news of the NSA spying also prompted Rousseff last year to cancel a state visit to the U.S.
As tensions between the two countries ease, the State Department has called Brazil "an important force for political stability and economic progress in South America" and approved earlier this year several other possible U.S. weapons sales to the South American powerhouse.
"We have been buying from the U.S.," a Brazilian embassy official who requested anonymity told Fox News Latino. "This is not related to the political situation at all."
The multiple million-dollar deals include the $169.4 million sale of 16 Boeing-made AGM-84L Harpoon missiles, 40 upgrade kits for M109A5 self-propelled howitzer artillery pieces and three UH-60M Black Hawk helicopters worth an estimated $145 million.
There has been no price tag set for the Chinhook helicopter, a twin-engine workhorse that has been a staple in the U.S. military for troop transports since the Vietnam War.