Brazil Eyes Next Targets After Major Victory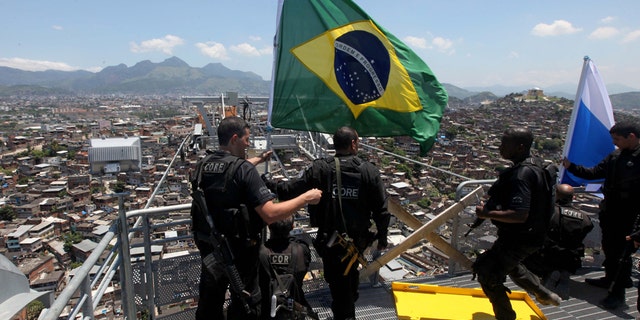 Río's security forces seized control of the most dangerous slum complex in Brazil but they are not satisfied as officials eye their next targets in shantytowns over viewing the city's fabled beaches.
The sweeps in Río De Janerio are meant to prove to the world that Brazil is a safe place to visit as it gets ready to showcase their growing emergence as a global force in the World Cup Finals in 2014 and the Olympics in 2016.
Río state public security director Jose Beltrame, who has been criticized by human rights groups in the past for tough policing methods, was humble but clearly thrilled Sunday after police and soldiers seized control of the Alemao complex of about a dozen slums. For decades, it had been the key territory of Río's biggest drug gang, the Red Command.
"The Alemao was the heart of evil," Beltrame said.
But he emphasized that his 2-year-old program to push gangs out of the city's sprawling shantytowns and replace them with permanent police posts was only beginning, that he was now looking ahead to the next slum that police will go after — Rocinha, a huge sprawl of shanties and narrow alleys that is one of Latin America's largest slums.
He did not detail when police might attempt to wrestle Rocinha from the drug gang that controls it, but he was resolute and confident in saying that it would definitely fall.
"Criminals without a house, criminals without a weapon, criminals without territory, criminals without money are far less criminal than they were before," a smiling Beltrame told reporters. "We have not won the war, but we've won a difficult and important battle."
He spoke a few hours after 2,600 police and soldiers poured into Alemao at sunrise, supported by armored personnel carriers, low-flying helicopters buzzing the slum and even a few tanks. They claimed victory within two hours, saying they had taken control with little fighting in the district of 85,000 residents.
It was the biggest advance yet in the two-year effort to drive gangs from their strongholds in the hundreds of shantytowns.
Alemao was a key target because it sits next to the highway that connects most of Río to the international airport. Rocinha, the next target, lies on a road that will connect the main 2016 Olympic venues to the rest of the city.
Río de Janeiro Gov. Sergio Cabral said the campaign against gangs will go forward.
"We will continue to conquer more territories and give peace to our citizens and the foreign visitors who come here," he told Globo TV.
Officials have already imposed order on more than a dozen other former gang strongholds, even encouraging tourism along streets once echoing with gunfire.
The gangs reacted violently to the campaign a week ago, staging mass robberies of motorists on key highways, burning more than 100 buses and cars, and shooting up police outposts.
The government counterattacked with hundreds of soldiers and thousands of police in armored vehicles, first driving gangsters from the Vila Cruzeiro slum Thursday, then moving on to neighboring Alemao — their most ambitious target yet.
At least 36 people, mostly suspected drug traffickers, died in the gang violence and resulting police raids over the past week.
Officials earlier warned that as many as 600 gang members were holed up in Alemao, but by nightfall Sunday police had made only a handful of arrests, including a few of the slum's reputed top gang leaders.
Police estimated at least 200 gangsters remained hidden in the slum and warned that sporadic shootouts were likely in the coming days as security forces searched the zone.
At least one suspected trafficker was killed in the invasion and at least two people were injured.
"We won," said MaRío Sergio Duarte, head of Río state's military police. "We brought freedom to the residents of Alemao."
Inside the slum, big piles of trash dotted a main dirt road that ran with raw sewage. The iron gates of storefronts were drawn down, their surfaces pocked with bullet holes. Spent rifle casings littered streets.
Slum residents under siege for days, took advantage of the calm to buy food. Old women, young boys and teenagers leaned against their squat shacks surveying the new scene, but often hurried inside when a police contingent walked by.
Some residents said the government was a negligible presence in the area for at least a decade and expressed fear the police hold would not last.
A young pregnant woman voiced her doubts in a whisper and declined to give her name in fear of both the gangs and the police officers standing guard a few feet away.
"The gangs will be back. I have no doubt they escaped and will return after the police leave," she said. "How big a police post will they need to secure this whole place? I don't think they can do it."
Francisco Antonio Xavier, a 34-year-old cook who lives in the slum with his wife and two young children, was more optimistic.
"I always hoped, I always knew they would come," he said of the police. "It's going to be a calmer place to live. Everybody is loving this. From today onward life is going to get better."
Based on reporting by the Associated Press.