Brazil arrests last suspect in case of ISIS sympathizers allegedly plotting attack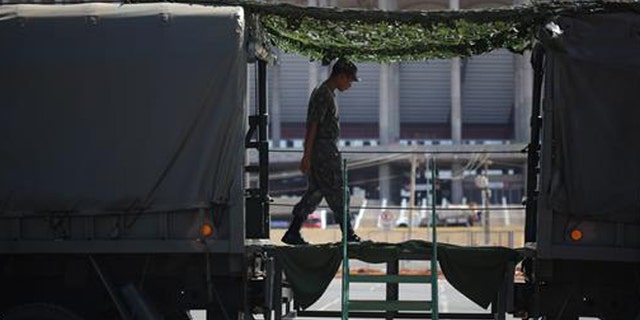 NEWYou can now listen to Fox News articles!
RIO DE JANEIRO (AP) – Police arrested the last suspect sought in the case of a group of Islamic State sympathizers who allegedly discussed attacking the Olympics in Rio de Janeiro.
The Federal Police said in a statement late Sunday that the man was caught in the city of Comodoro, in the central west region of Brazil.
Police said he was taken to a federal prison but didn't reveal his name, citing security reasons.
The anti-terror probe was announced by authorities on Thursday when 10 Brazilians were arrested in different states of Brazil. Another man turned himself in on Friday.
Justice Minister Alexandre de Moraes said some of the men had pledged allegiance to the IS without having any personal contact with members of the terrorism group. The suspects also didn't know each other and only communicated via WhatsApp and Telegram.
Moraes said the group was amateur and ill-prepared. The closest it got to planning an attack was an alleged attempt via email to buy an AK-47 assault rifle in a store in Paraguay.
The suspects hadn't traveled to the group's stronghold in Syria or Iraq or received any training. It's unclear whether they practiced any religion.
Federal judge Marcos Josegrei da Silva, who oversees the case, told O Globo newspaper over the weekend that there could be more people involved with the group.
Like us on Facebook
Follow us on Twitter & Instagram