Brad Pitt's 'Fury' knocks 'Gone Girl' off top spot, 'Book of Life' has strong opening weekend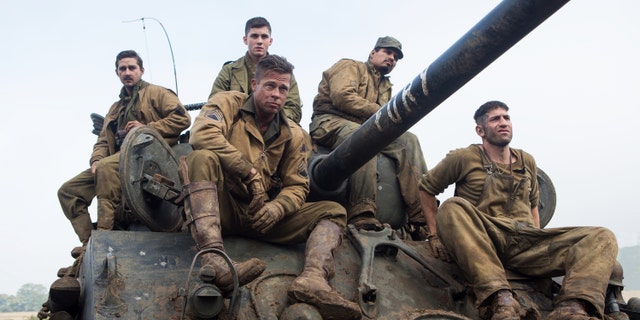 NEWYou can now listen to Fox News articles!
LOS ANGELES – While the bloody World War II drama "Fury" chased "Gone Girl" from its top spot at the box office, the animated feature on Mexican folklore, "The Book of Life," had a strong opening in theaters this weekend.
The film starring the voices of Zoe Saldaña, Diego Luna and Channing Tatum opened in third place with $17 million.
"Fury," starring Brad Pitt, topped the box office with $23.5 million in ticket sales, according to studio estimates, knocking off "Gone Girl" to second place. The Ben Affleck-led drama captured $17.8 million during its third week in theaters.
The week's top two films are R-rated adult dramas, followed by two PG family films.
"The fall movie season is all about making the transition from PG-13 world of summer to the R-rated, edgier world of the fall and awards season," said Paul Dergarabedian, senior media analyst for box-office tracker Rentrak.
Disney's "Alexander and the Terrible, Horrible, No Good, Very Bad Day," came in fourth place with $12 million.
"We're now in full adult movie-going season and we'll see a lot more adult-skewing fare," said Fox distribution chief Chris Aronson, who added that the colorful "Book of Life" suits any audience.
Another new film rounds out the top five: Relativity's Nicholas Sparks romance "The Best of Me," starring Michelle Monaghan and James Marsden, debuted with $10.2 million.
"Birdman," the Alejandro Gonzalez Inarritu drama starring Michael Keaton, opened in just four theaters and boasted a per-screen average of $103, 750. It opens in additional locations next week.
Overall box office is up almost 25 percent from the same weekend last year, Dergarabedian said, and the strong fall showing at cinemas is making up for a year-to-date box-office deficit that dropped from 6 percent to 4 percent in the last month.
Based on reporting by the Associated Press.
Follow us on twitter.com/foxnewslatino
Like us at facebook.com/foxnewslatino