Boston snow nears highest-ever recorded levels: 8.8 feet so far this season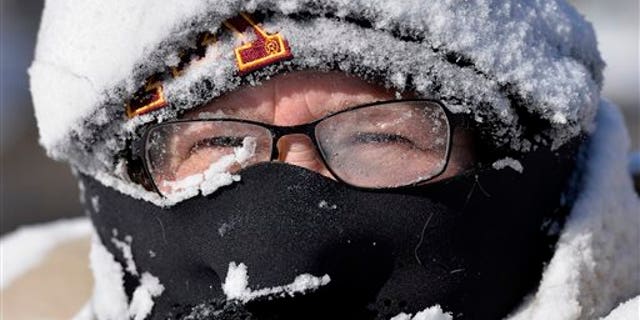 New England residents already buried in snow can expect another wintry blast as a March storm races across the U.S.
For the city of Boston this means inching even closer to an all-time record (records date to 1872).
The Boston Herald is reporting the city received another 1.6 inches of snow late Tuesday into Wednesday. Citing the National Weather Service, the Herald said, this brought the amount of snow recorded at Logan International Airport to 105.5 inches for the season.
The record is 107.6 inches recorded during the 1995-1996 season, according to the paper.
The Boston-area transit system is considering ways to compensate customers for weeks of weather-related delays and breakdowns. A Massachusetts Bay Transportation official said the options include a week of free fares, which he estimated would cost the agency $6 million. Other possibilities include rebates or discounts for monthly pass holders, or letting customers with monthly passes use them for another month.
Officials estimated the cost to the transit system of the winter storm cleanup is $36.5 million to date.
And more is coming, as the storm system that swept across parts of the Great Plains and Upper Midwest on Tuesday should move into Maine, Massachusetts, eastern New York and New Jersey by Wednesday.
The system will dip through the mid-Atlantic region, including Washington, D.C., and North Carolina, and extend into Tennessee, Kentucky, Arkansas, southern Oklahoma and northeastern Texas.
In West Virginia, Gov. Earl Ray Tomblin says he's mobilizing the West Virginia National Guard to assist with the prospect of heavy rains, snow and possible flooding on Wednesday.
The storm dumped several inches of snow across the northern Plains, making roads treacherous and leading to some traffic fatalities.
An arctic cold front will sweep across the Dakotas and Minnesota in the storm's wake.
Just another day in South Dakota
In parts of the Great Plains, snow made travel difficult Tuesday. Many schools from the eastern Dakotas to western Minnesota delayed classes or closed for the day.
"Just another day in South Dakota," said Jessica Martin, who works at the Crossroads Truck Stop in the eastern South Dakota town of Colman. "We're way ready for spring."
Heavy snow and gusty winds also struck much of Wyoming, causing road closures and prompting transport officials to warn against all but essential travel across much of the state.
Three people were killed in a three-vehicle crash north of Casper, Wyoming, on Monday night as the storm blew into the state, the Casper Star-Tribune reported.
In Minnesota, the State Patrol reported 150 crashes and nearly 30 vehicles that slid off roads or spun out by midafternoon. A state trooper's squad car was struck and badly damaged on I-494 near Concord in South St. Paul, Minnesota, while that trooper was investigating a crash.
Authorities closed a slippery stretch of Interstate 94 in central Minnesota for a time due to numerous accidents. The driver of an SUV was killed in a multivehicle crash on the freeway, the State Patrol said.
One person died in a crash on Highway 41 in Brown County of northeastern Wisconsin. At least four school buses got stuck in traffic behind the crash scene.
At least one fatal traffic accident was reported in Omaha, Nebraska.
The Associated Press contributed to this report.