Border agent who killed teen wants suit tossed because boy was shot in Mexico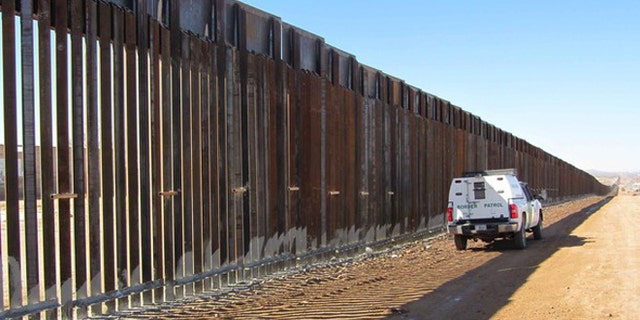 A Border Patrol agent who allegedly shot and killed a teenager across the U.S.-Mexico border claims the boy was not protected by the U.S. constitution because he died in Mexican soil.
The agent says a federal lawsuit filed by the family against him should be dismissed. A federal judge will hear arguments on Tuesday.
The case was filed in Tucson, Arizona, on behalf of Araceli Rodriguez, the mother of 16-year-old Jose Antonio Elena Rodriguez. The teen was killed Oct. 10, 2012, while in Nogales, Sonora, near the border fence. An autopsy showed Elena Rodriguez was shot about 10 times.
The Border Patrol has said Elena Rodriguez was among a group of people throwing rocks at agents across the border, endangering their lives.
The agent was on the Arizona side of the border, and his attorney says Elena Rodriguez is not constitutionally protected because he was a Mexican on the Mexico side.
The ACLU says the shooting was another example of border agents using excessive force without consequences. Araceli Rodriguez says her son was walking home from playing basketball with friends and never had a rock or any other weapon.
Swartz has not been charged, and an investigation by the FBI is ongoing. The Border Patrol declined to say whether he is still an agent.
Swartz's attorney, Sean Chapman, did not return a call seeking comment. Chapman has asked U.S. District Court Judge Raner C. Collins to throw out the mother's lawsuit, saying constitutional protections did not extend to her son.
"Even if Agent Swartz's alleged conduct plausibly violated the Fifth Amendment, (Elena Rodriguez) was not entitled to substantive due process because he neither came within the territory of the United States nor developed substantial connections with this country to justify its extraterritorial application," Chapman wrote in his motion to dismiss.
In a similar case out of Texas, a federal appeals court found the family of another Mexican teen killed by an agent cannot sue in the United States.
U.S. Border Patrol agent Jesus Mesa Jr. shot 15-year-old Sergio Adrian Hernandez Guereca in June 2010 near a bridge between El Paso, Texas, and Ciudad Juarez, Chihuahua. Authorities said Mesa was trying to arrest immigrants who had illegally crossed into the country when rock-throwers attacked him. Mesa fired his weapon across the Rio Grande, striking Hernandez Guereca twice.
A three-judge panel of the 5th U.S. Circuit Court of Appeals originally said Hernandez Guereca's family could sue Mesa. But the full court overturned that ruling in April.
The issue of whether constitutional rights protect non-Americans outside the U.S. in relation to border shootings could end up before the U.S. Supreme Court.
The Border Patrol has come under criticism for its use of force at the border, with several lawsuits filed against the agency alleging excessive use of force. The agency has maintained its agents use force only to defend their lives.
"I think what we saw for many years is a rash of shootings and abuse that gave a feeling of impunity because the Justice Department was never taking corrective action, and I think when there's no corrective action taken, the feeling of impunity develops among the ranks, and it probably starts to feel like they can do almost anything," said Lee Gelernt, the ACLU attorney presenting arguments Tuesday.
Based on reporting by The Associated Press.
Like us on Facebook