Book on Trump raises worries in South Korea about alliance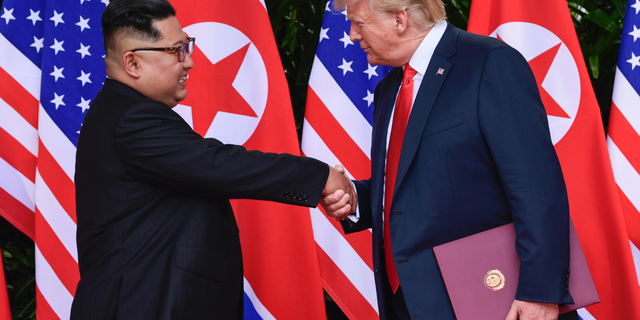 SEOUL, South Korea – Donald Trump had to be tricked out of killing a U.S.-South Korean trade deal? He threatened to move a U.S. missile defense system from South Korea to Oregon? He ordered a plan for a pre-emptive attack on North Korea?
These supposed moves by Trump, detailed in journalist Bob Woodward's new book, will cause bafflement and worry among government officials in Seoul. But, for many South Koreans, they just add more pieces of evidence to an established picture of an erratic U.S. leader who thinks little of an alliance forged in the turmoil of the Korean War and often described here as a "bond of blood."
"South Koreans have already seen Trump's childish behavior many times," an editorial writer for the conservative Chosun Ilbo, South Korea's most-read newspaper, wrote in a column Friday about Woodward's book, comparing the president to a "rugby ball that could bounce anywhere" if not watched by others.
South Korea, before Trump, had become used to regular, glowing declarations from U.S. leaders of both political parties about the eternal strength of their alliance. The country, after all, is a global success story, rising from the poverty and destruction of the war into Asia's fourth-biggest economy; it's a regional bulwark of democratic, capitalist values and a leader in culture, trade and good works.
So long before Woodward's book, South Koreans were shocked at Trump's open complaints about the costs of maintaining the 28,500 U.S. troops stationed in South Korea as protection against North Korean attack; at his decision, after his June summit with North Korean leader Kim Jong Un, to abruptly shelve major U.S. military exercises with South Korea; at his claim that the "horrible" U.S. free trade pact with South Korea destroyed U.S. industry and his insistence that Seoul renegotiate.
When asked by The Associated Press whether he has ever seen a U.S. president who was so openly dismissive of the U.S.-South Korean alliance, Kim Sung-han, a former South Korean deputy foreign minister, said, "No."
"He's the first and hopefully the last exception," said Kim, whose last posting in the South Korean Foreign Ministry was in 2013 and who has never met Trump. "He doesn't approach alliances with a strategic mindset, but only evaluates their transactional value. He constantly questions whether the United States needs any alliance. He thinks that if a partner wants to keep an alliance, it should pay 100 percent of the costs."
Many of the most explosive excerpts from the soon-to-be published book, "Fear: Trump in the White House," deal with the Koreas.
Trump reportedly ordered a plan to pre-emptively attack the North; he suggested that a U.S. missile defense system in the South meant to guard against North Korean attack should be moved to Portland, Oregon; and a former Trump economic official allegedly swiped papers from Trump's desk so he wouldn't sign an order killing the free trade agreement between the countries.
In a statement provided to The Associated Press, South Korea's Foreign Ministry said it has been following the reports, but that it would be inappropriate to comment about a book that hasn't been published yet. It refused to say whether it considers any of the stories true. The Ministry of Trade, Industry and Energy couldn't immediately comment on the trade deal allegations.
"South Korea and the United States have been maintaining close communication and consultation on major issues such as the North Korean nuclear problem, security, economy and trade," the Foreign Ministry said.
In spite of the behavior described in Woodward's book, Trump's administration has avoided policy moves that would have created major repercussions with South Korea.
The United States and South Korea plan to sign a renegotiated free trade deal during the U.N. General Assembly in New York later this month. The missile defense system — the Terminal High Altitude Area Defense System (THAAD) — remains in Seongju, South Korea. Washington and Seoul have so far cooperated in diplomatic efforts in the nuclear standoff with North Korea.
Still, experts say that Trump's attitude doesn't bode well for South Korea.
It's possible that the alliance will end up looking much different depending on the outcome of nuclear diplomacy among Washington, Pyongyang and Seoul. Experts say Kim Jong Un, who initiated the diplomacy after a stream of nuclear and missile tests last year, sees a rare opportunity in a U.S. president who seems eager to prove his deal-making skills and thinks less of the traditional alliance with Seoul than his predecessors did.
North Korea has been demanding the United States agree to a declaration to formally end the 1950-53 Korean War, which some see as a precursor for pushing for the withdrawal of U.S. troops in South Korea.
"Trump will continuously cause trouble and the alliance can be persistently shaken," said Choi Kang, vice president of Seoul's Asan Institute for Policy Studies. Choi said South Korean government officials will be anxious about the descriptions in Woodward's book, which he says show the United States as "dysfunctional."
"I have never seen a situation like this," Choi said.
Most experts say the alliance will probably survive the Trump presidency. South Korea, along with Japan, has served a crucial role in protecting U.S. interests in the region, a role that both Seoul and Washington may need more of in the future to check a rising China, said Lee Daewoo, an analyst at South Korea's Sejong Institute.
Kim, the former diplomat, said South Korea's government should make stronger efforts to show the value of the U.S.-South Korean alliance to the American public.
"Whether there's two years left or six years left, that's more than enough time for (the Trump administration) to cause serious damage to relations with South Korea," Kim said. "Efforts to persuade the U.S. public are crucial, because if Trump is afraid of anything, it's American voters."