Bombing at mosque kills Afghan governor, officials say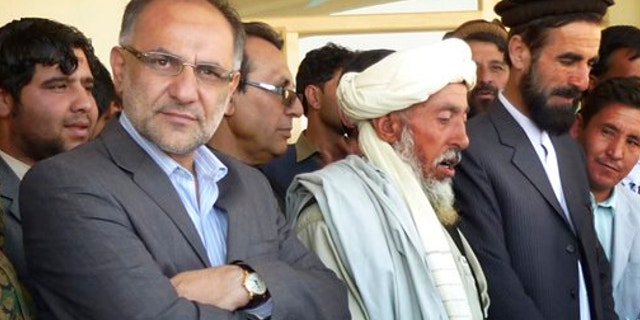 KABUL, Afghanistan – A bomb planted inside a mosque microphone killed the governor of Afghanistan's eastern Logar province as he was delivering a speech to worshippers on Tuesday morning to mark the Muslim holiday of Eid al-Adha, officials said.
The explosion at the main mosque in the provincial capital of Puli Alam killed Governor Arsallah Jamal and wounded 15 people -- five of them critically, said the governor's spokesman, Din Mohammad Darwesh.
Jamal, 47, was a close confidant of President Hamid Karzai and served as his campaign manager during the 2009 presidential elections. He also served as governor of the eastern Khost province until he was appointed to his current post in Logar in April.
There was no immediate comment from Karzai's office on the attack.
A high-profile target, Jamal had survived a number of assassination attempts in the past, including with suicide bombings. They include two suicide attacks against his office in Khost in May and July 2009, and a suicide car bomb attack that targeted his convoy in August 2007.
No one immediately claimed responsibility for Tuesday's attack but the Taliban have been targeting Afghan officials, military and NATO troops as part of their campaign to retake territory as international troops draw down ahead of a full pullout at the end of 2014.
The explosion took place as Jamal was speaking inside the mosque to worshippers, said Logar's deputy police chief, Rais Khan Abbul Rahimzai. The bomb was apparently planted inside the microphone in the front part of the mosque, said two officials, speaking on condition of anonymity because they were not authorized to speak to the media.
The wave of attacks since the NATO handover of security responsibilities to Afghan forces has led to a spike in casualties, both among Afghan forces and civilians.
The Taliban have said they will target government officials and people who work in the Karzai administration. There have been numerous bombings of government buildings leading to dozens of deaths in recent months. In one such attack, outside the Supreme Court building in the Afghan capital, Kabul, a suicide bomber killed 17 people, most of them office workers, on June 17.
Logar, which is located just south of Kabul, was once mostly a calm province. But it has recently seen an influx of Taliban fighters and increased attacks against government forces.
Eid al-Adha is one of the most important holidays in the Islamic calendar. Muslims around the world slaughter sheep, cows and goats during the four-day holiday, giving away much of the meat to the poor. The holiday commemorates the readiness of the Prophet Ibrahim, known to Christians and Jews as Abraham, to sacrifice his son, Ismail, on God's command.
In an Eid message from the secretive leader of the Afghan Taliban on Monday, Mullah Mohammad Omar pledged that his followers would keep fighting if Karzai's government signs a crucial security deal with the United States. In the message, Omar also called on his fighters to intensify their insurgent campaign against Afghan and NATO forces, and urged all Afghans to boycott next year's elections, including the vote to elect a successor to Karzai.
On Saturday, Karzai and U.S. Secretary of State John Kerry reached an agreement in principle on the major elements of a deal that would allow American troops to stay in Afghanistan after 2014 and allow the U.S. to lease a number of military bases around the country.
However, key issues, such as immunity for American troops who will stay on, remain unresolved. The jurisdiction over those forces must still be worked out, and U.S. officials have said this was a potentially deal-breaking issue.
The slain governor, Jamal, was recently in the spotlight following his revelation that a senior commander of the Pakistani Taliban was taken into custody by American forces in Logar province on Oct. 5.
U.S. officials confirmed that Latif Mehsud, a leader of the Tehrik-e-Taliban Pakistan, or TTP, was captured by U.S. forces in a military operation.
At the time, Jamal told The Associated Press that Mehsud was captured as he was driving along a main highway linking the province with Kabul.