Bomb wounds four Bahrain policemen: ministry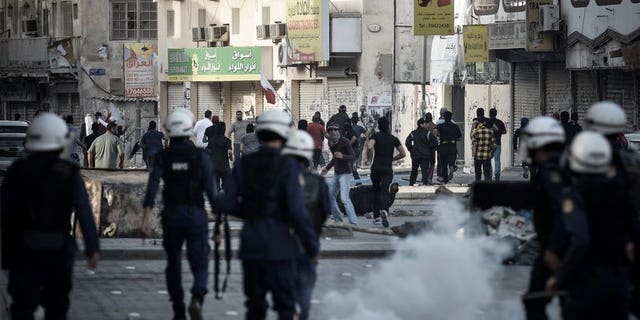 DUBAI (AFP) – A home-made bomb wounded four Bahraini policemen outside a Shiite village, the interior ministry said on Sunday, in the latest unrest to rock the Sunni-ruled Shiite-majority Gulf state.
The bomb was "planted by terrorists" near Janabiyah village, west of Manama, the ministry said in a statement carried by the official BNA news agency.
The device was "remotely detonated," the Al-Ayam newspaper cited a security official it did not identify as saying.
Police said later that security forces arrested "one terrorist" who had been involved in preparing the bomb that exploded late on Saturday.
Other culprits had been identified and would be arrested.
Earlier this month, a policeman was killed and two others wounded in what security officials said was a "terrorist" bombing outside a police station in the Shiite village of Sitra, south of the capital.
Bahraini authorities often use the term "terrorists" to refer to Shiite demonstrators who have kept up pro-democracy protests despite a 2011 crackdown backed by Saudi-led Gulf troops, sparking repeated clashes with security forces.
In mid-February, a police officer was killed by a petrol bomb during clashes with protesters, after a teenager was shot dead during a demonstration marking the second anniversary of the launch of the protests.
At least 80 people have been killed in Bahrain since the protests erupted, according to the International Federation for Human Rights.
Strategically located across the Gulf from Shiite Iran, Bahrain is home to the US Navy's Fifth Fleet and is an offshore financial and services centre for its oil-rich Gulf Arab neighbours.